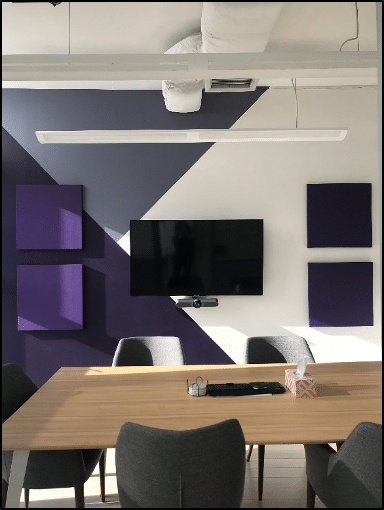 Company:
Uneebo
Executive Summary:
Acoustic Solutions utilized acoustic panels to reduce echo and overall noise levels. 
About the Client:
Uneebo deals with many complex office design clients' needs and office soundproofing is one of the key ones. Many of their clients are startups and fast-growing businesses based in busy metropolitan cities like New York, San Francisco, Los Angeles, Austin, and Portland – so noise pollution and traffic can really impact their office productivity.
The Challenges:
There were several areas throughout the client's space where they were dealing with distracting echoes and noise levels. The goal was to make each area more suitable acoustically for employees utilizing the spaces, as well as users on the other end of conference calls.  Reducing the distracting echo would help drive productivity and make sure that users on both ends of calls could clearly communicate.
The Solution:
To mitigate the sound on the Onna project for Uneebo, the AlphaSorb Whisper Acoustic Panels were used in both 1" and 2" thicknesses. In the larger spaces, 2" thick panels were used to reduce lower frequency resonance, and in the smaller rooms the 1" thick panels sufficed to cover vocal frequencies.   Onna enjoyed the color scheme of the AlphaSorb Whisper Acoustic Panels on the walls, as they are wrapped with a vibrant and crisp looking fabric. These went best with their lively space.
The Results:
The best sound mitigation was achieved by spreading the material evenly throughout the office. This resulted in hitting the client's goals of making the office more comfortable to work in and have clear conversations with customers.
In the Customer's Own Words:
"Uneebo worked with Acoustical Solutions for one of our startup clients 'Onna' to help with their soundproofing needs in New York City. The client absolutely loved the soundproofing panels and made a huge difference to their acoustical challenges in their conference rooms, Zoom rooms and main bullpen area with their core office furniture. Given this, Uneebo has begun offering soundproofing needs as part of our core packages and will definitely be working with Acoustical Solutions in the future for more of our office interior design projects." 
-Rich Kane, CEO & Founder, Uneebo
Summary:
Uneebo contacted Acoustical Solutions, as a designer, working to help their customer reduce an echo in several rooms throughout their client's office. We provided the AlphaSorb Whisper Acoustic Panels to accomplish the sound reduction for the end user, Onna.
To learn more about how Acoustical Solutions can solve your noise control problems, use our contact form, call one of our Acoustical Sales Consultants at (800) 782-5742, or visit us on the web at acousticalsolutions.com.