For years the only way to spruce up the way your acoustical sound panels has been to add some form of solid-colored fabric.  Now, though, we've taken another step to allow you to add art to your acoustical panels.
Our decorative acoustical panels, or acoustic art panels, allow you to add high-quality designs and photos to your acoustical treatment.
---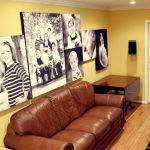 The first products you can add design elements to are our AlphaSorb® Fabric Wrapped Wall Panels.  These wall panels are for sound reduction and reverberation control.
Applications include Houses of Worship, Teleconferencing and Videoconferencing Rooms, Lobbies, Broadcast and Recording Studios, Multi-Purpose Rooms, Home Theaters and Auditoriums.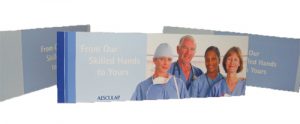 ---
We can also print on our SoundSuede Fabric Wrapped Wall Panels.  They offer all the same advantages as AlphaSorb® Fabric Wrapped Wall Panels but are wrapped in suede.
Their unique covering allows for a softer look that works well in-home theaters, recording studios and houses of worship.

---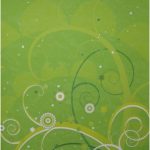 When it comes to bigger spaces such as gymnasiums and cafeterias we suggest acoustic baffles.
Our line of AlphaEnviro™ Hanging Baffles are sound absorbing baffles with washable surfaces.  The free hanging vertical suspension from ceilings allows the baffles to interrupt the path of the noise and reduce sound reverberation.
Features include Class 1 fire rating and a sound absorption rating of .90 – 1.10 NRC. Installation: Simple vertical suspension using plastic tie wraps or wire through the grommets in the corners of the sound baffles.
Please call us at 1-800-782-5742 with any questions on the AlphaEnviro™ Hanging Baffles sound absorbing baffles or for help determining how many hanging baffles to use for your particular application.
---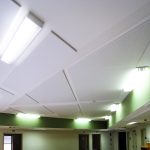 Finally, one of our "greenest" products is also a great medium on which to print photos, posters, artwork, etc.
PolyPhon Polyester Acoustical Panels are sound absorbing panels developed with environmental friendliness in mind.
The panels are 100% polyester. They are 100% recyclable and have an NRC value of .75.