Summer is almost here, and everyone you know is anxious to head for the nearest body of water. Many of you avid swimmers have probably already been practicing your butterfly and breast strokes… at your local indoor pool.
Besides the lack of sunshine, one drawback to using an indoor pool is the noise level. In months where the indoor pool is the place to be – crowded with classes and vocal children – it can be nearly impossible to hear someone speaking to you from three feet away, or to understand announcements from lifeguards and pool staff over the reverberation of sounds.
The reason sound is so intense, and speech intelligibility so poor, is because rooms containing indoor pools are almost always all hard surfaces. The water, walls, floor and ceiling are likely tile or block, which are the most impervious to water damage, but also give sound waves no place to dissipate.
The key to solving these noise issues is adding sound absorbing materials to the walls and ceilings to offset all of the reverberant surfaces. There are a number of acoustical treatments you can use to reduce indoor swimming pool noise, and the ones listed below are also tolerant to moisture and can be installed to block walls and ceiling scaffolding.
Acoustical Baffles and Clouds
These ceiling treatments are made of sound absorbent foam with an HPC waterproof coating and are easily suspended from scaffolding – absorbing sound waves that tend to build up in high ceilings.
Sonex® Valueline Hanging Foam Baffles
Whisperwave® Baffles and Clouds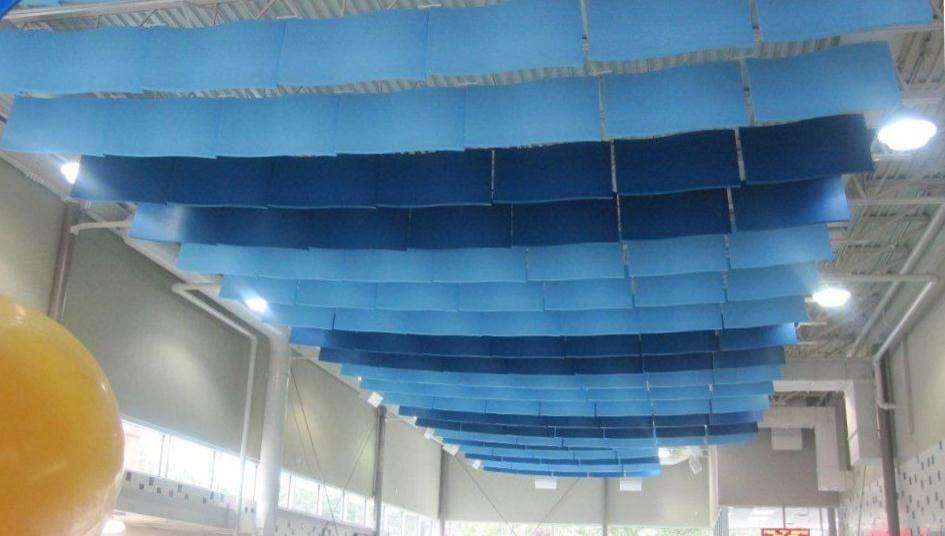 Acoustical Banners
Banners are PVC or Ripstop wrapped acoustical products that offer the most sound absorbent surface area, and are easily cleanable.
Acoustical Wall Panels and Ceiling Tiles
Waterproof PVC encapsulated acoustical treatment as well as acoustical foam can also be installed surface mounted on walls or ceilings.
Sonex® Phonstop Recycled Glass Wall and Ceiling Panels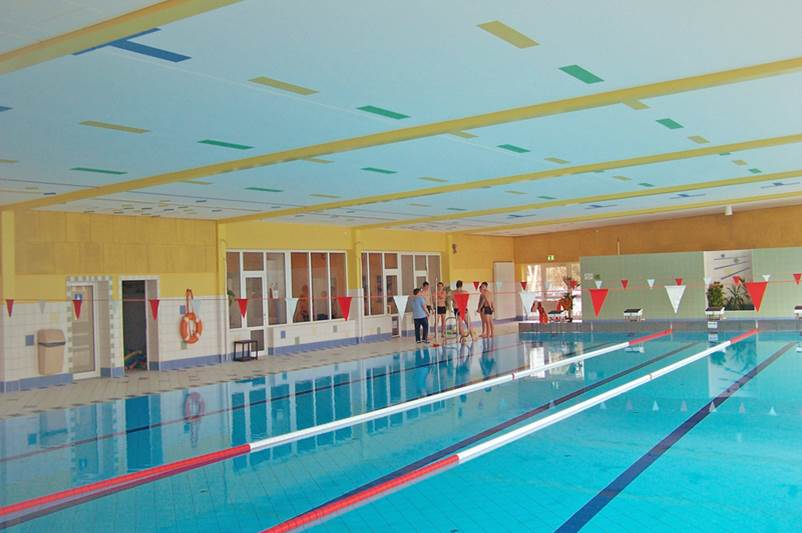 Feel free to call in with any questions on these products or applications, or for a free acoustical consultation for your indoor pool!