PrivacyShield® Plenum Return Silencer G2
Sold By

:
Each
Return Policy: This product is non-returnable.
Typical Shipping Lead Time: 2-3 weeks; quantities greater than 10 will require additional time
Product Description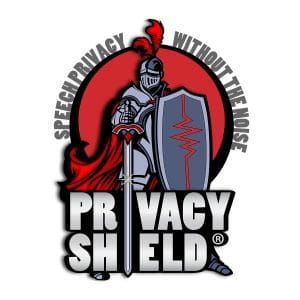 Speech Privacy Without the Noise!
The PrivacyShield® Plenum Return Silencer G2 stops airborne sound transmission through ceiling grid air returns to increase speech privacy. As a component of the PrivacyShield® system, use this in combination with the PrivacyShield® Ceiling Tile Barrier and Light Hoods to prevent sound from flanking over interior partition walls. Unlike other speech privacy systems, like sound masking, creating a soundproof ceiling grid provides a better, long-lasting alternative without adding fatiguing noise.
By and large, open plenum ceiling grid systems are intended to provide a low-cost air return solution for office spaces and buildings. What is often overlooked is the need for speech privacy and sound control. An open-air return permits air to cycle into the plenum, but it also allows sound and conversations to pass with it. This is especially true when the partition walls do not extend up to the roof deck. To address this issue, something needs to be placed at the sound source to prevent this sound transmission.
As the next generation of air silencers from Acoustical Solutions, the unit was specifically designed to provide a solution to this problem. As the air and sound enter the silencer, it is presented with a tortured path of sound-absorbing material. Consequently, the sound is reduced and prevented from escaping to other rooms, while still maintaining airflow.
By soundproofing your grid, you can keep your conversations confidential and prevent annoying distractions that will lead to increased privacy and productivity as well as create a comfortable, relaxing space.
For use in standard 2′ x 2′ and 2′ x 4′ grids systems, the PrivacyShield® Plenum Return Silencer G2 is available for new or retrofit construction projects. Each shipment includes a pre-cut barrier tile backer, a vertical air chute with included 5″ corner extensions, and your choice of a standard hood or hood with a 1 lb. per sq. ft. barrier septum and tape for assembly.
Applications
Speech Privacy and Soundproofing for Private Offices, Conference Rooms, HR Departments, Legal Departments, and Medical Facilities. Noise due to rooftop units, HVAC, and other equipment.
Features
Greatly improves speech privacy while maintaining air flow
Installs over existing air vent grill
Higher worker productivity & Improved worker morale
Reduced threat of corporate espionage
Compliance with HIPAA
Speech Privacy Without the Noise
Hood Section Core Options:
Standard
1 lb. Septum

Standard STC of 5

(Best for Speech)

1 lb. Septum STC of 26

(Best for Music,
Mechanical noise)
Technical Information
Size: Fits into a standard 2′ x 2′ ceiling grid

Overall size: 31″ x 31″ base x 19″ height

Composition:

Hood Section: Fiberglass core covered on both sides with non-woven polyester rayon facing molded into a single piece acoustical hood with optional 1 lb Septum
Air Chute Section: Two-part, black molded fiberglass board with exterior fire-resistant foil scrim facing
Ceiling Tile Barrier: 0.12 inch (3.05 mm) woven polyester acoustic decouple facing adhered to a 0.12 inch (3.05 mm) mass loaded vinyl sound barrier with a 0.003 inch (0.08 mm) fire retardant fabric backing

Parts List: Air Chute, Hood, Ceiling Tile Barrier, Tape
Intended Use: To reduce the amount of sound that passes through an air vent, into and out of a ceiling plenum. This product is a component of the PrivacyShield® System that includes PrivacyShield® Ceiling Tile Barrier and PrivacyShield® Light Hoods.
Maximum air flow: 750 CFM (cubic feet per minute)
Operating Temperature per ASTM C411: 250 degrees maximum
Air Velocity per ASTM C1071: 5000 fpm (25.4 m/sec) maximum
Maximum Internal Pressure per UL 181: 2″ w.c. (498 Pa)
Fungi Resistance:

per ASTM C1338: Does not breed or promote
per ASTM G21: No growth

Bacteria resistance per ASTM G22: No growth
Water Vapor Transmission per ASTM E96: < 0.02 Perms
Water Vapor Solutions per ASTM C1104: <5% by weight
Fire Rating: Class 1 or A per ASTM E84 (UL 723)
NRC: 1.00 per ASTM C 423-09a/E 795-08/NVLAP 08/P03
Sound Transmission Loss (STC) Per ASTM E 90-09/NVLAP 08/P06

Hood Standard – STC: 5
Hood with 1 lb. Septum – STC: 26
Sound Transmission Loss (Hz) (per ASTM E 90-09)
Type
125
250
500
1000
2000
4000
STC
Standard
5
4
4
5
6
7
5
1 lb. Septum
16
17
21
25
33
40
26
Sound Absorption (Hz) (per ASTM C423-09a; E-400 Mounting)
125
250
500
1000
2000
4000
NRC
1.01
1.07
0.80
1.05
1.02
1.09
1.00
Installation Method
Please refer to the installation instructions posted in the Documents section of this page and watch this Assembly Video.
Construct this unit using the provided duct tape and place the unit in the ceiling grid on top of an existing perforated air return grill. To begin, assemble the two vertical air chute components into a square box, on top of the ceiling tile barrier mat, using the factory-installed peel-and-stick tape. If plenum height is not sufficient, the 19" high vertical hood supports may be cut down to a 13" height.
Square up the assembled air chute on top of the pre-cut ceiling tile backer (silver side up) and secure it to the ceiling tile backer with provided duct tape. Pass the completed air chute with barrier tile into the plenum and install on top of the existing perforated air return grill. Finally, pass the hood portion of the unit into the plenum and place on top of the installed air chute.
Maintain uniform temperature and humidity prior to, during, and after installation.
These installation instructions are a general guide to avoid common errors. Installer should follow best practices for construction and workmanship.
Do not install material of unacceptable quality.

WARNING: This product can expose you to chemicals including glass wool fibers (inhalable and biopersistent) known to the State of California to cause cancer. For more information go to www.P65Warnings.ca.gov.
Customer Reviews