When most people think of acoustical treatment, they probably think cushy or foamy, available in a variety of off-white colors. It is not always considered something that would contribute to a chic appearance. The creators of Adidas Village, a renovated 10.5-acre former hospital, however, know better. They used the trendy and modern look of acoustical ceiling tiles.
Adidas Village
When Adidas decided to renovate an existing structure for Adidas Village, they knew they wanted to create a showpiece of ingenuity and design.  They created an award-wining facility that brought together different elements to allow for the look, feel and sound they desired. The entries and showrooms needed to standout and give visitors a feeling of innovation.  However, the high-tech feel that the designers sought could have created serious acoustical issues if they had used finishes with reflective, hard surfaces.
Sonex® Squareline Metal Ceiling Tiles were incorporated to add a modern look to the reception area, conference rooms and various offices. The high-tech look of these acoustical ceiling tiles also complimented the continually updated merchandise displays. 
"We put Sonex® Squareline Metal Ceiling Tiles in places that get noticed, places where we want to make an impression with clients or the general public." said Owen Clemens, special projects director for Adidas. "We really like the way they look. Plus, they control sound and are cost effective."
"The appeal of Sonex® Squareline Metal Ceiling Tiles is not limited to just the ceiling," said Michael Roberts, interior architect for LRS Architects. "The non-directional pattern of the tiles compliments the rooms, fixtures and display items. The contrast of the metal grid finish and the charcoal background insert was a complimentary ingredient in the interior's aesthetic appeal."
Sonex® Squareline is a fresh alternative to traditional, linear or perforated metal acoustical ceiling tiles. These galvanized, powder-coated, expanded metal ceiling tiles are pre-bonded to illbruck's proprietary, Class 1 fire-rated Willtec foam. Depending on the thickness of the foam insert, Willtec foam absorbs 55 – 80% of the sound that reaches them.
Rose Garden Arena
Proprietors of the sleekest, most exclusive level of the Rose Garden Arena, just a stone's throw from Adidas Village, are familiar with Sonex® Squareline Metal Ceiling Tiles.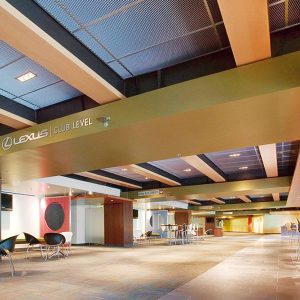 The Rose Garden Arena in Portland, Oregon is a $267 million multi-purpose arena. Opening in the fall of 1995, the arena serves as the home of the NBA Portland Trail Blazers. In addition to games, the Rose Garden Arena hosts a wide variety of events such as concerts and family shows.
One unique feature of the 20,000 seat Rose Garden Arena is the club level. This includes a sports bar, executive banquet facility, lounge with a restaurant, concession stand, grill and outdoor terraces. Acoustics are always an issue that needs considering in an environment that is filled with various sounds. Noises can become unclear or even uncomfortable for the patrons. These issues needed to be addressed while maintaining the high-end look and feel of the club level.
Sonex® Squareline Metal Ceiling Tiles were installed during the arena's redesign. 1600 sq. feet of the 24-by-48-inch acoustical ceiling tiles with a grey backer were used. Squareline Tiles let you create a ceiling in a simple design that is both attractive and acoustically efficient.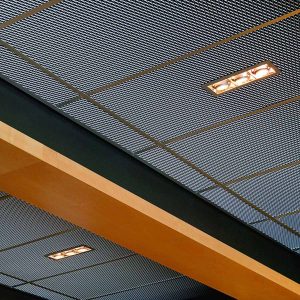 We wanted the club level to have the feel of intimate lounges for casual gatherings within a broad concourse," says Michael Roberts of LRS Architects, which designed the current club level of the Rose Garden Arena. "We upgraded the club level and wanted a ceiling application that conveyed a higher-end impression. I was familiar with Sonex® Squareline Metal Ceiling Tiles from previous projects and thought it would be perfect. The color we selected is distinctive but isn't distracting. When you're on the club level, the finishes, furnishings and fixtures leave no doubt that you're on a premium level of the Rose Garden."
Product Details
Sonex® Squareline Metal Ceiling Tilesare available in three patterns: Squareline Standard, Squareline Medium and Squareline Ultra, in white, chrome or black metal panels with or without a light grey or black fleece backing to create a unique design. Tile sizes are 24 x 24 or 24 x 48, and easily drop into other standard 15/16-inch ceiling grids. The expanded metal is made with 35 – 55% recycled content and is impervious to heat sources.
There are many noise control and soundproofing products made with aesthetic design in mind. If this interests you, visit AcousticalSolutions.com and check out other items that not only improve acoustics, but beautify a space as well.