What is Green Glue?
Introduction
Contrary to its name, Green Glue is not an adhesive but rather a unique noise-proofing product that can be used for both renovations and new construction projects. Sold in either cases of 12 tubes or 5-gallon pails, Green Glue helps block sound transmission in common soundproofing assemblies. Green Glue's versatility and ease of use make it a popular soundproofing material for wall, floor, and ceiling assemblies.
Green Glue is a unique compound that acts as a damping material specifically made to dissipate sound waves as they travel through structures. Being an environmentally responsible and non-hazardous material, Green Glue has quickly become a staple soundproofing product. Due to its versatility, it's now used in a wide variety of assemblies both in professional and DIY soundproofing applications.
What is Green Glue?
Time to get to the nitty gritty… Green Glue is a water based, non-toxic compound used to soundproof ceiling, wall, and floor assemblies. As sound travels through the air and hits solid objects, such as a wall, it transfers that energy into the structure. Normally this sound wave is passed through that object and out the other side. When sound travels through a damping material like Green Glue, as those sound waves pass through and push and pull on the Green Glue, this energy is converted to heat, dissipating the sound transferred through. It's in this way that Green Glue breaks up and blocks sound.
Why is Green Glue Important?
Green Glue's largest impact comes from its inherent properties to dampen impact noises and its overall flexibility. While it is a great sound-proofer in general, in situations where you are trying to limit impact noises such as footsteps or other noises made on a floor above, it can make a huge difference. Used alongside methods to soundproof a ceiling or wall, like using RSIC-Clips and AudioSeal® Mass Loaded Vinyl (MLV) Soundproofing Barrier, it can be a powerful tool to stopping noise in multi-unit residential units, apartments, or condominiums. It's also great in situations where soundproofing was an afterthought, or in renovations as it can be added to a wall assembly rather than having to rip apart a wall or ceiling to soundproof.
Examples of Green Glue Assemblies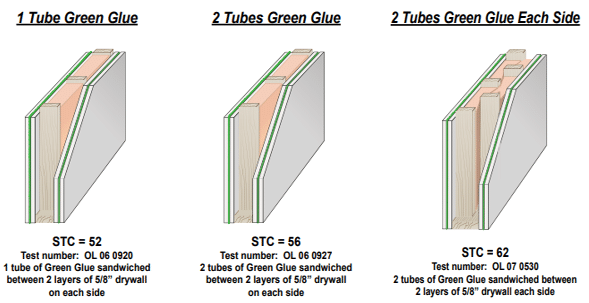 Tips and Reminders for Green Glue
While you have the second layer of drywall ready to go, make sure to use two tubes per 5X8 sheets to achieve the expected soundproof results. One is good, two is better.
Always remember to seal all outlets and seams because even an eighth of an inch gap will let air and sound travel through the cracks nullifying all your soundproofing.
Green Glue takes time to dry and set, so you won't see any results until about a week has passed, so wait patiently.
If you use green glue soundproofing sealant, make sure to wear gloves. If you end up getting some of the green glue on your skin, wash it off with water immediately. After the sealant is dry, it gets difficult to wash it off your skin.
Summary
Let's make sure you were paying attention. Green Glue is a noise proofing compound that can be used in wall, floor, and ceiling assemblies. It acts as a decoupler to stop sound from passing through to other areas or rooms. It converts noise energy into heat, thus quieting down noise as it passes through it. Don't worry, it's not going to start a fire in your wall!
It has a wide variety of applications, but generally needs to be sandwiched between two sections of drywall or plywood as part of a soundproofing assembly. Although it has this one limitation, it's a powerful sound proofer that has already won over professional soundproofing specialists as well as satisfied home DIYers. If you are thinking about soundproofing, Green Glue certainly needs to be at the top of your list.
---
To learn more about how Acoustical Solutions can solve your noise control problems, use our contact form, call one of our Acoustical Sales Consultants at (800) 782-5742, or visit us on the web at acousticalsolutions.com.