We are very excited to familiarize you with our line of fabric wrapped acoustic panel kits. The noise control kits are designed for echo and reverberation control. Commonly, broadcast studios, recording studios, listening rooms and control rooms use these kits. The kits are now available in models to fit almost any size room. These easy to use noise control kits contain everything you need to address common acoustical problems. Some of these problems include: primary reflections, flutter echo, standing waves and excessive bass.  Each includes absorptive sound control panels and ships complete with the basic mounting hardware to install direct to the wall!  Available in 10 color choices, these kits are a quick and easy turn-key solution that ships in 2-3 business days.  Manufactured in USA, you can combine these kits with a range of other acoustical products to maximize and tailor the sound control required for your specific application.
The AlphaSorb® QS Acoustic Panel allows you to easily choose from 1′ x 4′, 2′ x 4′ or 2′ x 2′ panel sizes, two thicknesses and ten color choices to configure the acoustical treatment that best fit the available wall space.
All of our panel, pro and room kits ship in 2-3 business days!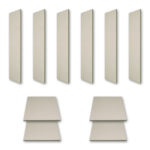 The AlphaSorb® Acoustic Panel Room Kit provides treatment for a small (10′ x 10′), medium (10′ x 15′) or large room (20′ x 20′).
The Perfect project studio kit for recording hobbyists and professionals alike! The square footage of sound absorbing material in each kit is calculated to meet the needs of the room size specified. This helps lower sound intensity and improve speech intelligibility.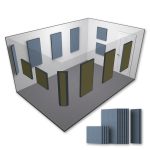 The AlphaSorb® Pro Panel Room Kit offers additional absorption to the basic room kit by utilizing two-inch-thick acoustical substrate for greater sound control. It also includes mounting to convert standard panels into corner bass traps to improve low frequency response. The Pro Kit designed to address the acoustic issues found in any small room!
For more information on our AlphaSorb® Acoustic Panel Kits, call us at 1.800.782.5742 or contact our sales department.