About Us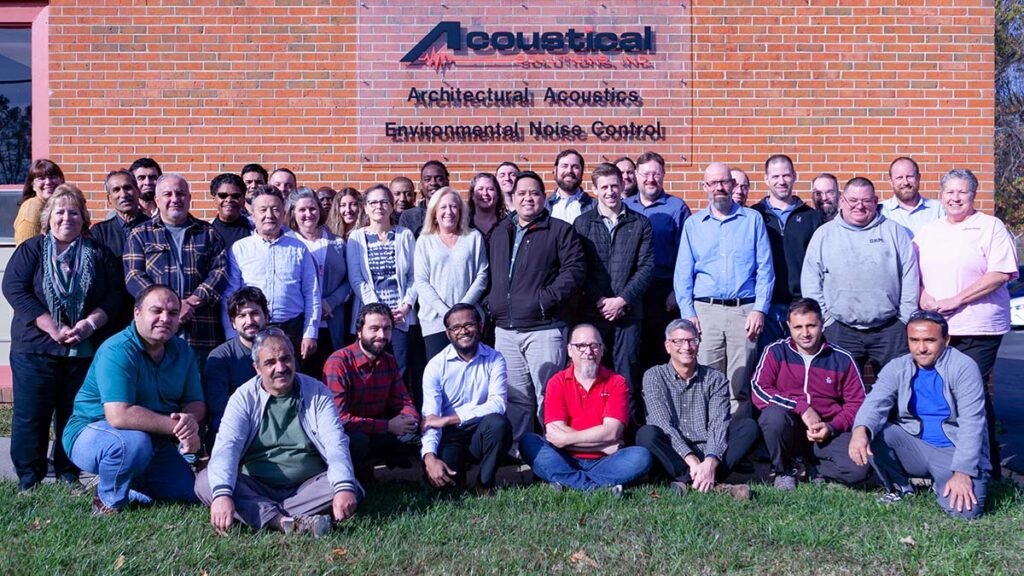 What we do:
Acoustical Solutions is the leading provider of acoustical products used in architectural and industrial applications throughout the world. We also offer commercial estimation services and installation services.
We serve many different types of customers:
End-users, contractors, or AV integrators have unique projects and need help finding the best solution to fix their sound problem within their budget. We have a team of acoustical sales consultants with more than 250 years of industry experience who can help you find the best solution to any sound problem. We have acoustical site survey consultants who are available to come to your site, review the situation and provide product and layout recommendations. For new construction bid jobs, we have a commercial estimating team ready to do a "take-off" and provide a quote. Call us at 800-782-5742, explain your situation, and we will gladly assist you.
Architects, designers, and acoustical consultants need technical support. Our website contains the product specifications and technical information they need to specify our products for new construction projects. We are also available to answer questions or provide a budgetary quote when needed.
DIY'ers usually know exactly what they want. If not, there is a lot of valuable information for them to educate themselves by searching our website. There are many case studies and blogs describing every type of sound issue and application imaginable and how we have helped others to solve them. And the great news is that DIY'ers can purchase everything they need from our online store. Just choose the product needed, place it in the cart, and check out with a credit card. It's that easy. And if you have questions, we are always ready to help.
What makes us unique?
Acoustical Solutions is unique because we have been solving customer problems since 1989. We focus on solving all types of acoustical problems from large-scale construction projects to open office soundproofing problems to industrial projects requiring custom-engineered enclosures. We offer the broadest range of products, and unlike our competitors, can provide turn-key solutions, including products, acoustical testing, and installation. We have built our reputation based on providing excellent service to our customers.
Don't take our word for it. Please Read our customer reviews and buy with confidence.
To Our Customers:
As your supplier, we warrant that our products will be free of manufacturer defects in workmanship and material. As such, we will replace defective products at our expense for up to one year after shipment. Contact your salesperson to resolve any defective product issues.
Our goal is to provide you with the best value in the industry so that you become a loyal, long-term customer of Acoustical Solutions. Our commitment to you is that we will deliver the best solution and the best customer service at a competitive price.
One of our core values is, "Treat Others the way that we want to be treated – with respect, and in a blameless manner." If you feel that we have not lived up to this core value, please call me at 800-782-5742, and let's discuss it. I am sure that we can find a way to make it right.
Joe Niemann
President
Acoustical Solutions