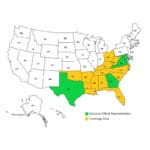 Our IAC Engineered Products are a specific sub-set of products we have available which are manufactured by IAC Acoustics, the leading manufacturer of metal sound control products in the world. Established in 1949, IAC Acoustics has a long history working with the most prestigious facilities in the world, to control the noise within their spaces.
In our official capacity as an IAC Acoustic representative, we cover specific geographical locations to offer assistance with the specification, acquisition, and installation/service of the entire range of IAC products. Our current exclusive territories are; Washington D.C, Maryland, Virginia, Georgia, and Texas. However, we also are the closest official representative to several adjacent territories, which we cover to ensure clients get the best results on their project. To assess if we are the closest representative to you, see the map below.
If you contact us about a project which is outside our area of coverage, we will be able to assist in connecting you to the nearest IAC representative who can help you with your needs.
IAC Acoustic products service a wide range of needs and environments:
As a turn-key provider we have a wide-range of installation details, and pre-written CSI specification documents to assist acoustical consultants and architects achieve their design intent, and then our highly-trained team can ensure that through-out the execution of your project, the process goes as smoothly as possible.
For more information please contact us.