SUMMARY:
Acoustical Solutions recently worked with Circular Congregational Church of Charleston, SC to solve an echo and reverberation problem. This was making meetings in this hall unbearable for many members and visitors. The noise reduction solution was to install fabric wrapped wall panels above the windows.
APPLICATION INTRODUCTION:
Meeting Halls and multi-purpose rooms are extremely important concept and practice in churches around the world.  This hall is being used for large gatherings.
To make this hall more satisfying for its members and visitors, Circular Congregational Church contacted Acoustical Solutions.
The church needed better acoustical performance in the Hall. Prior to the installation, conversations were difficult and in large gatherings, and most conversations needed to take place at very close proximity.
Circular Congregational Church was experiencing high levels of reverberation due to hard, flat, reflective surfaces in its hall. This resulted in low speech intelligibility.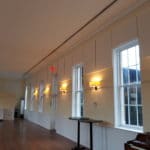 TREATMENT PROVIDED:
To treat the space ALPHASORB® FR701 ACOUSTIC PANELS were install above the windows around this room.  The panels are manufactured to order in sizes up to 4'x10'.  This gives us the option to come up with a design that not only solves the sound issues but also fits the space.
The ALPHASORB® FR701 ACOUSTIC PANELS were the perfect product for this space with 50+ colors to choose from, the product being Class 1 Fire rated and having an absorption rating (NRC .85)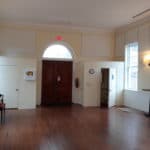 RESULTS:
After the project's completion, Circular Congregational Church had a space that both sounded and looked better. One individual remarked "It was amazing. People could actually have conversations and understand each other, even in large crowds."