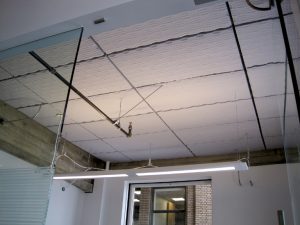 Acoustical foam for office ceilings can dramatically improve an office environment. Simply mount acoustical foam directly to a ceiling to improve office acoustics.
Today's dynamic office environments pose new challenges in the realm of acoustics.  To maintain a collaborative work environment, many new office spaces are open spaces, without boundaries to separate colleagues. This does help improve teamwork.  But if the room is not correctly designed for optimal office acoustics, much of this effort may be lost. The room may have poor speech intelligibility and team members may not be able to communicate efficiently. This is typically a result of sound bouncing throughout the room due to an abundance of flat reflective surfaces. This also combines with office chatter, phones and office equipment noise.
The only way to truly contain the sound for each individual would be to create separate rooms for each person. Without building walls to separate spaces, the best option is to at least lower the reverberation level and improve the speech intelligibility.  This will shape the office acoustics and help employees be able to effectively communicate with one another.
An example of acoustical foam for office ceilings
In this application, there were many obstacles to work around in the ceiling as well as glass walls, so a direct mount acoustical foam was used.  This allowed for easy installation without mechanical fasteners.  Acoustical foam is easy to cut or trim in the field as necessary.
From the client: "Terrific product and customer service. Wish all my vendors were half as good — it would certainly make my job a whole lot easier. Ryan was a delight to work with — professional, personable, and very helpful overall especially in determining what product we needed and how to best receive it. Many thanks! "
Product utilized for this application:  Sonex® Valueline Acoustic Foam