Game Room Acoustics: Acoustic Art Cuts Billiards Noise
So, you've finally done it—you have your game room! Your dedicated man cave with your billiards table is classy, fun, and LOUD. Well that was the case with Greg, anyway.
The Game Room
Acoustical Solutions Rep Steve Snider was spending time with his good friend and playing a game of pool when he noticed something was missing.
"I noticed too much of a ting in the room and kept telling him I could fix it, eh… he didn't really want to. But I convinced him the AlphaSorb® Art Acoustic Panel look excellent, we just need an image. We got out on the web one night and just randomly found this picture we both thought was pretty cool. Contacted the gallery (in England no less) that owns the image and told them what I wanted to do — it was 150 bucks for the image. Why not though? We bought it and had them print it with a reverse image border, meaning at a certain point the image mirrors itself, and that is where the edge of the panel is supposed to go. It worked out great! My buddy Greg didn't even bother putting a frame on it since it looked so good. And we got it all installed in an afternoon. We added AlphaSorb® Fabric Wrapped Panels to the ceiling too and Greg came up with the idea of caulking around them so it looks like they were built into the ceiling"
Watch and listen to the before and after here:
Greg is happy with his new treatment too (and has forgiven his friend Steve for being a salesperson):
"There are people like me who have these rooms in their houses and just really have no idea that they could do this. It really does sound like a carpeted room now, I wasn't looking for it to sound like a recording studio or anything. And if nothing else, I love the quality of the picture, literally looks like a painting on canvas on my wall now"
And for the engineers, nerds, and skeptics out there, here is the acoustical data: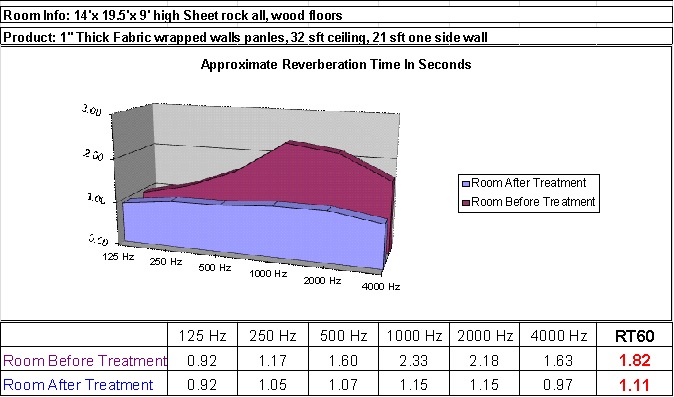 ---
To learn more about how Acoustical Solutions can solve your noise control problems, use our contact form, call one of our Acoustical Sales Consultants at (800) 782-5742, or visit us on the web at acousticalsolutions.com.