Soundproofing a Waterfall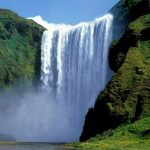 When we hear 'environmental noise control', we tend to think of sound blocking barriers like soundproof walls or enclosures that are meant to keep sound from transmitting into unwanted areas. However, sometimes the noise control issue doesn't require keeping noise from leaving one area and entering another, but keeping reverberation and noise levels down inside that outdoor area.
Excessive noise and reverberation is not only an issue inside—say in a crowded gymnasium or auditorium—but outside as well. Outdoor spaces such as sports stadiums and amphitheaters also require a short RT60 (reverberation time) to ensure the sound of crowds does not overwhelm music, speeches, or amplified announcements.
Acoustical products are made to do one of two things: block or absorb noise. Sound absorption is what is needed to reduce reverberation and increase intelligibility. The problem with applying sound absorption products outside is that they usually are great moisture absorbers as well, making them unsuitable for use in the elements.
This week, we received an inquiry on our website that read as follows:
"Can these panels or others be used outside in a high humidity environment without collecting mold or mildew? We have an area near a waterfall with stone floors, wooden ceiling and open walls to the outside. The waterfall and hard surfaces create lots of background noise."
So, there you have it—Acoustical Solutions was asked to give advice on how to soundproof a waterfall. Or at least, reduce the reverberation created by the hard surfaces around the waterfall.
Luckily, Acoustical Solutions carries a few different exterior grade acoustical panels that are designed to absorb noise outdoors – and not fall apart in the rain, wind, and uh…waterfalls.
Here is our reply to the above inquiry:
"The problem here is reverberation off of all the hard surfaces, which will make the sound accumulate and be amplified in the surrounding area – we do have exterior grade acoustical panels available, like our Cypress Acoustical Panels pictured here, as well as our PolySorpt® and exterior grade acoustical sound blankets."
Cypress Acoustical Panels are our newest exterior grade acoustical panel and are fabric wrapped, with the widest selection of colors available.
Our PolySorpt® Panels are indoor/outdoor and are textured with different patterns.
---
To learn more about how Acoustical Solutions can solve your noise control problems, use our contact form, call one of our Acoustical Sales Consultants at (800) 782-5742, or visit us on the web at acousticalsolutions.com.