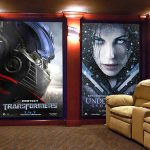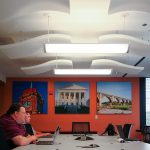 At Acoustical Solutions, we get asked all the time: Can I add art to acoustical panels? The answer is yes!
Our Art Acoustic Panels do the job perfectly, as does our AcoustiWall Stretch System. These sound absorbing acoustical products are printed with acoustically transparent inks and fabrics to retain their noise reducing strength.
Art Acoustic Panels are a PVC framed, fabric faced wall panel, printed with images. This allows the panel to hang on the wall more like a traditional piece of art. This also allows you to change out the fabric if you ever want a new image displayed. A very popular product!
For larger areas and projects, our AcoustiWall Stretch System also has a rigid PVC frame and is a site-installed solution.
Any high resolution graphic or photo that you supply can be used to create these products.