Summary:
Greg contacted me because when his band would have practice in his house the sound would leak out of his window. The neighbors mentioned they could hear him and being a good neighbor he wanted to find a solution where they could practice at volume, but not disturb his neighbors. 
Application Introduction:
Greg described his issue as "In our 4 bedroom house we have a dedicated music room on the 2nd floor.  It is a spare bedroom 14.5 X 11 feet.  On one wall we have one window that projects to the neighbors. Here is the basic list of the equipment we are using in the room: 
Nord keyboard powered by two JBL powered 3-way speakers for true stereo, Drums/Bass Boss DR-880 powered by another JBL, and an MSA Super Slide Lap Steel powered by a Mesa Boogie Mark V through an external speaker cabinet.  Total 100 watts and 2 12" speakers.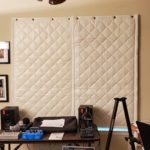 Treatment Provided:
I recommended our Audioseal ABSC-25 Combination Sound Blankets with grommets and Velcro with mating psa Velcro for the sides to seal and cover the window. This helps both block the sound as well as reduce reverberation in their practice room. This is also removable if sunlight or fresh air are desired when not making music. We are currently discussing additional treatments for the walls such as Alphasorb Pyramid Foam or our Alphasorb FR701 Fabric Wrapped Panels to add more absorption to the room.
Materials:
Audioseal ABSC-25 Combination Sound Blankets 
Alphasorb FR701 Fabric Wrapped Panels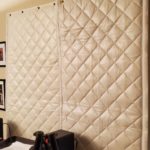 Results:
"Over the weekend I made time and installed the Sound Blanket in my home music room.  The installation went fine.  When we played in the room for the first time the Sound Blanket was installed we could not believe the awesome difference.  Our intention was to install the Sound Blanket to limit the amount of sound that leave the house. It did that 100%.  Plus it made the music we were making in the room sound 100% better than it has ever sounded.  The music was so much clearer and distinct. "