Understanding Acoustic Foam vs. Acoustic Panels for Optimal Sound Control
When it comes to finding the right materials for sound control, it can be a daunting task. Acoustic panels, acoustic foam – which is right for you? In this article, we break down the two "competing" materials and explain their differences so you can make the right choice for your unique acoustic situation.
What's the Difference Between Acoustic Panels and Acoustic Foam?
Acoustic panels and acoustic foam both serve the same purpose: controlling sound by reducing noise. It's important to distinguish that neither are typically used for soundproofing (blocking sound altogether), that's a different situation altogether. But both acoustic panels and foam do an excellent job reducing echo, reverberation, and unwanted frequencies that can "muddy" sound.
All that said, while acoustic panels and acoustic foam both work to better control sound, knowing some basic differences can help determine which is best suited for your space:
Acoustic Panels: Sound Control's Workhorse
Acoustic panels are more dense making them champions at broad-frequency sound absorption. Their robust design controls a wide sound spectrum, from sharp highs to deep lows. Fabric wrapped panels are durable and can be made with a high impact face for even more durability. We can also make sound blocking panels that offer both absorption and sound blocking (or soundproofing) abilities
Acoustic panels can be made to order, in any size up to 4' x 10'), and can be wrapped in hundreds of different acoustic fabrics, offering both function and flair. Positioned strategically on walls or hanging gracefully from ceilings, they help you cut down unwanted echoes and reverberations to control a room's sound quality while offering great aesthetics.
Coming in a wide array of colors and differing acoustic fabrics, think of acoustic panels as your one-stop shop for high-end acoustic control: excellent sound control, heavy-duty, long-lasting construction, and excellent aesthetics that many seek to improve interior design and decor in addition to mastering the room's acoustics. They are also easy to clean and maintain.
Acoustic Foam: Another Sound Absorbing Option
While serving the same acoustic purpose, acoustic foam is more of a workhorse – light, versatile, and effective. Also very efficient at sound control, the lightness of acoustic foam makes it easy to cut to install, and less cumbersome to hang in ceiling applications. While acoustic foams excel in capturing high-frequency sounds, their thicker variants deal well with middle and high frequencies. Their compact design also offers versatility, and it can be crafted in a variety of shapes to fit any situation. Because they are "just foam" and not a multi-material construct like fabric-wrapped acoustic panels, there are many inexpensive acoustic foams on the market.
Acoustical foam is not as durable as fabric wrapped panels but it is lighter weight and is able to be made into more custom shapes and sizes.
When to Use Acoustic Panels
Knowing which acoustical treatment you should use depends on what you're trying to accomplish. Here are a few instances where you should use acoustic panels:
Home Theaters
Acoustic panels in your home theater can elevate your movie-watching experience both visually and sonically. They refine sound quality and provide an elegance to match the rest of the room's aesthetic.
Public Spaces
The echo of footsteps, overlapping conversations, and the constant movement in places like cafeterias, hotel lobbies, or restaurants can sometimes border on chaos. Acoustic panels are the perfect tool for these types of spaces because they absorb and dampen sounds to create a quieter and more comfortable ambiance, while providing a quasi-art aesthetic hanging on the walls or from the ceiling.
Corporate Offices
The corporate world isn't just about presentations and meetings; it's also about impressions. Modern offices, art galleries, or upscale retail spaces aim to strike a balance between aesthetic appeal and functionality. Acoustic panels cater to this ideal perfectly. Beyond their sound control capabilities, they can be tailored to match or complement interior design that many modern offices seek to integrate.
When to Use Acoustic Foam
While performing generally the same sound control services as acoustic panels, we see a lot of acoustic foam used in offices, music production, podcast recording, and sound editing. Although I would generally recommend acoustic panels in these situations, I often recommend foam for ceiling applications when my customer has an aesthetic in mind and wants a shape that can't be done with fabric wrapped panels. We offer wave clouds, wave baffles, circles, and cloud shaped clouds to name a few.
They are also a nice option for walls when customers are looking for a lightweight product and don't want to use mechanical fasteners. When selecting acoustic foam for wall applications, consider if you need a fire-rated product. Our entire offering of acoustic foams are fire-rated making them suitable for both residential and commercial applications.
Recording Studios
Acoustic foam ensures pristine audio clarity. It effectively dampens sound reflections, to make recordings sound crisp and professional. Whether you're an upcoming artist in a bedroom or a seasoned producer in a professional studio, acoustic foam is the secret behind many hit records. It can be tailor fit to unique layouts. And while many professional studios may want the aesthetic to look "cool," ultimately the purpose is to craft beautiful soundscapes, and that's what acoustic foam is all about.
Ceiling Treatment
Whether in offices, churches, auditoriums, or gymnasiums, the light-weight nature of acoustic foam is a fantastic way to control sound by implementing ceiling treatment.
Modern Acoustic Panel Options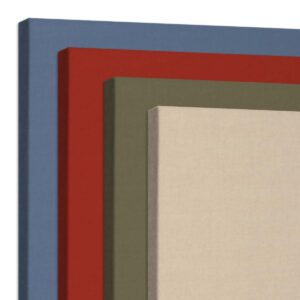 AlphaSorb® Fabric Wrapped acoustic panels offer designers high-end sound control functionality while adding in aesthetic sensibilities. AlphaSorb® Fabric Wrapped panels come in a variety of differing fabrics, including custom Guilford of Maine acoustic fabric, and a host of colors and sizes to fit your every need. They aren't just pretty; take a look at our data sheet to see their technical abilities.
Modern Acoustic Foam Options
Whisperwave® Ceiling Cloud
Elevate your creative expression and combat noise and reverberation simultaneously with Whisperwave® Ceiling Cloud curved acoustic foam. These acoustical foam clouds come in a choice of natural white, natural grey, and HPC-coated colors, with the HPC coating expertly applied to all surfaces of the cloud. Crafted from Class 1 fire-rated melamine foam, Whisperwave® products are available in standard dimensions or can be tailored to meet the unique demands of your project.
AlphaSorb® Flat Acoustic Foam
AlphaSorb® Flat Acoustic Foam is an ideal solution for acoustic absorption needs in applications that demand a sleek, pattern-free appearance. AlphaSorb® Flat Acoustic Foam is available in various sizes and thickness options. These panels are constructed with a lightweight yet effective acoustical foam core, making them versatile for direct mounting on walls or ceilings in a wide range of settings. The melamine acoustic foam core is easily trimmable with a sharp blade utility knife and can be readily installed using a foam construction adhesive. Additionally our flat foam, like many of our foam products, foam panels/baffles/clouds can be custom coated to any paint color
AlphaSorb® Pyramid Acoustic Foam
Our AlphaSorb® Pyramid Acoustic Foam, specially engineered to effectively reduce echoes and noise, results in more pleasant and easily audible environments. The unique pyramid-shaped design not only enhances acoustic performance but also adds a distinctive visual element to any space.
This acoustic foam can be securely mounted to ceilings or on vertical walls, ensuring that the foam can be seamlessly integrated into any area, enhancing its acoustic quality and significantly improving speech clarity. With a generous 4-inch thickness, this product boasts an impressive 100% sound absorption capability, and it is also available in 2-inch and 3-inch thickness options for your convenience.
Discover the Best in Acoustic Panels and Acoustic Foam from Acoustical Solutions
Are you trying to decide between foam or acoustic panels? At Acoustical Solutions, we're here to guide and provide. Dedicated to enhancing your acoustical experience, we have a range of products tailored for every project, no matter the style, size, or unique challenges.
Contact us today to learn more about how we can help you transform your acoustic space!
---
To learn more about how Acoustical Solutions can solve your noise control problems, use our contact form, call one of our Acoustical Sales Consultants at (800) 782-5742, or visit us on the web at acousticalsolutions.com.