PrivacyShield® Light Hood
Product Description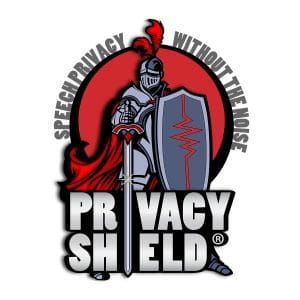 Speech Privacy Without the Noise!
The PrivacyShield® Light hood is installed over lighting fixtures in a suspended ceiling to reduce sound and noise transmission, while maintaining air flow. Lighting fixtures have been identified as a significant path for speech and noise to enter and exit the ceiling plenum and travel to neighboring enclosed or open rooms.
Light hoods can be installed in both new and existing spaces to reduce the amount of sound transmitted from one space to the next. These are used when wall partitions do not extend up above the ceiling grid to the roof deck and offer an economical alternative to building full partition walls.
Applications:
Speech Privacy and Noise Reduction in Private Offices, Conference Rooms, HR Departments, Legal Departments and Medical Facilities.
Features
Greatly improves speech privacy while maintaining air flow
Higher worker productivity
Improved worker morale
Reduced threat of corporate espionage
Compliance with HIPAA
Speech Privacy Without the Noise
Light Hood Core Options:
Standard
1 lb. Septum

Standard STC of 5

(Best for Speech)

1 lb. Septum STC of 26

(Best for Music, Mechanical noise)
Technical Information
Sizes: 2′ x 2′ (actual: 31″ x 31″ x 9″), 2′ x 4′ (actual: 31″ x 55″ x 9″)
Thickness: 1″
Height: 9″
Color: Black
Composition: Fiberglass core covered on both sides with non-woven polyester rayon facing molded into a single piece acoustical hood with optional 1 lb. Septum
Fire Rating: Class A per ASTM E84 (UL 723)
Complies with Uniform Building Code (BOCA), Standard Building Code (SBCCI), and International Building Code (ICC).
Meets or exceeds the National Electric Code pertaining to the installation of this system over lighting fixtures.
NRC: 1.00 per ASTM C 423-09a/E 795-08/NVLAP 08/P03
Sound Transmission Loss (STC) Per ASTM E 90-09/NVLAP 08/P06

PrivacyShield® Light Hood Standard – STC: 5
PrivacyShield® Light Hood with 1 lb. Septum – STC: 26
Sound Transmission Loss (Hz) (per ASTM E 90-09)
Type
125
250
500
1000
2000
4000
STC
Standard
5
4
4
5
6
7
5
1 lb. Septum
16
17
21
25
33
40
26
Sound Absorption (Hz) (per ASTM C423-09a; E-400 Mounting)
125
250
500
1000
2000
4000
NRC
1.01
1.07
0.80
1.05
1.02
1.09
1.00
Installation Method
Assemble components as outlined in installation guide using the included installation kit (bonding paste, tape & brush).

WARNING: This product can expose you to chemicals including glass wool fibers (inhalable and biopersistent) known to the State of California to cause cancer. For more information go to www.P65Warnings.ca.gov.
Customer Reviews