Soundproofing a Window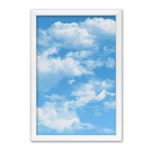 Quite often we get calls about soundproofing a window. Our customers have issues with sound from traffic & highway noise, neighbors, barking dogs, HVAC and other machinery, etc. coming into a residential or commercial space. Typically, the complaint is that sound is coming in through the existing windows. Soundproofing a window helps provide to reduce distracting noise.
So how do I go about window soundproofing? Below I will outline some ways to block sound from entering an interior window.
OPTION 1: Replace Existing Windows With Soundproof Windows
Soundproof windows will typically have multiple layers of glass with air gaps in between. Milgard and other suppliers carry soundproof lines that can replace your existing windows.
PROS: Effective, aesthetically pleasing solution.
CONS: Expensive and may require a contractor to install.
OPTION 2: Soundproof A Window With A Window Seal Kit
The PrivacyShield® Window Seal Kit easily installs over the existing windows. These magnetically mount to the surface of the window trim or install in between the jambs of the window. The kit provides both acoustic and thermal insulation and is removable for access for cleaning or maintenance. The PrivacyShield® Window Seal Kit is compatible with a wide range of window styles.
PROS: Inexpensive add on. Easy to remove and you get to keep your existing window style. Reduces noise and lowers heating & cooling costs.
CONS: Not having one installed on your window yet!
OPTION 3: Soundproof A Window With Clear Sound Barrier
A custom sized window panel can be created using our AudioSeal® Clear Sound Barrier. The barrier can be manufactured in a size up to 48″ wide. The clear vinyl panel is then applied using Velcro to the perimeter frame of the window. The clear barrier panel will need to extend past the visible glass and adhere to the perimeter molding to create a good seal and air gap. This option may not work with all styles of windows.
PROS: Inexpensive and removable. Allows light to pass through.
CONS: May not achieve a specific desired look.
OPTION 4: Soundproof A Window With A Barrier Blanket
The PrivacyShield® Dual-Sided Absorptive Soundproofing Blanket is typically manufactured with grommets for hanging and velcro on the vertical edges. This allows blankets to hang temporarily over a window or opening. These can be sized up to 48″ inches by 25′ (some limitations may apply). It may take multiple blankets to cover larger windows. Blankets may be made to overlap with mating Velcro, allowing for a good sound seal and to hold the blanket in place. The blanket panel will need to extend past the visible glass or window frame and adhere to the perimeter molding to create to seal any potential air gaps.
PROS: Removable / temporary solution. Blocks & absorbs sound.
CONS: Loss of light / vision and use of the window.
OPTION 5: Seal Window Gaps With Acoustic Caulk
If there are any small gaps between the window and the interior wall, sound from outside can enter your home. Soundproofing a window, in this case, requires caulking– specifically with acoustical caulk. This caulk is a noise-proofing, latex-based product that helps reduce outside noises. The caulk bonds with most window frame and wall materials and is more flexible than regular silicone caulk. You want to remove any old silicone caulk before applying a thin bead of the acoustical product.
PROS: Easiest and most inexpensive option and can be painted.
CONS: It may not work with your window frame or wall materials if the caulk is unable to adhere.
Option 6: Hang Sound Dampening Curtains
Another option for dampening outside noises is to hang sound-dampening curtains. These curtains use thick, heavy fabrics like velvet and are lined with sound-absorbing materials like vinyl. Sound-dampening curtains are best suited for minimizing light sound pollution and eliminating echoes, like crickets and birds chirping, rather than louder noises. You can find curtains in a variety of colors, and they are typically around $20 to $60 per panel.
PROS: Many brands available, also help block out light.
CONS: Doesn't help with heavy noise, the cost adds up.
Option 7: Install Double-Cell Shades
Another option for soundproofing a window is to install cellular shades, or honeycomb shades. These shades consist of rows of cells or hexagonal tubes of fabric that are stacked on top of each other. Double-cell shades absorb more sound than their single-cell counterparts, putting them on the same level as sound-dampening curtains. The shades also help block out light and provide some insulating properties.
PROS: Block out light, have insulating properties, many options at different price points
CONS: Only help with echoes and light sound pollution.
Option 8: Replace Weather Stripping Tape
Weatherstripping can degrade over time, and when that happens, the soundproofing quality of your windows can lessen. By replacing the weatherstripping tape around the windows, you can improve soundproofing and also prevent heat or cold air from escaping. Weatherstripping is available in different materials, including foam, rubber, and silicone. What material is best for your window depends on factors like the amount of friction the window will receive, weather exposure to weather, and the overall appearance of the window.
PROS: Easy, cost-effective solution, many options in terms of materials, can help cut utility costs.
CONS: Can take a long time to do multiple windows.
Option 9: Use a Soundproof Window Plug
You can build your own soundproof window plug to really soundproof a window. Window plugs are a combination of inexpensive wood, acoustic foam, and soundproofing material. Window plugs fill the opening of a window, effectively creating a plug that blocks out both light and sound. They are an excellent temporary solution, as you can plug the window when you want to block noise and take it off whenever you don't. We can also use two panels back-to-back to fit in wide window casings, or an Alphasorb barrier panel.
PROS: Cheap, easy to DIY, temporary
CONS: You need to get measurements perfect for true soundproofing.
Option 10: Install Window Shutters
Another cheap and effective method of soundproofing windows is to install shutters. The shutters go on either side of the window and serve multiple purposes: adding privacy, providing protection from the elements, and providing extra soundproofing. While shutters can be installed on your home's exterior and interior, exterior shutters are the most common. Vinyl and wood are two of the most common shutter materials available in many different colors.
PROS: Cheap and effective.
CONS: Aren't everyone's aesthetic.
There are many options to consider for soundproofing a window, and they all have their own advantages and disadvantages. When considering your different options, pay attention to the level of noise you struggle with, and consider talking to an expert today to find out what options may work best for you.
---
To learn more about how Acoustical Solutions can solve your noise control problems, use our contact form, call one of our Acoustical Sales Consultants at (800) 782-5742, or visit us on the web at acousticalsolutions.com.