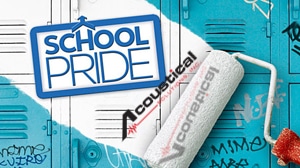 We're very excited this week to be a part of the NBC show "School Pride".  The episode for which we donated and sold a vocal booth and WhisperWave® Baffles will air Friday, November 5.
The NBC show "School Pride" tells the stories of communities coming together to renovate their aging and broken public school. This is why Acoustical Solutions is extremely excited to have contributed.
"The dog walks under the tree."
Within the school, we mainly helped with a media room. In that room we provided:
A ClearSonic Vocal Booth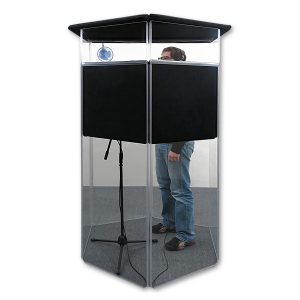 (IsoPac G) –  These voice over and vocal booths are lightweight and portable. The acrylic wraps around the front of the booth, while the Sorber panels wrap around the rear. Since Sorber panels don't actually connect to the ClearSonic Panels, you can simply use one side of an S5-2 (two sections hinged together) as a "door" for easy entry.
IsoPac G is a small vocal booth that will hold a single vocalist. This IsoPac works well in situations where space is at a minimum. Similar style to our MegaPac, the IsoPac G uses clear panels and SORBER to achieve maximum sound reduction. 
WhisperWave® Baffles – WhisperWave® curved accent products allow you to unleash your creativity while reducing noise and reverberation. WhisperWave® Baffles create movement and are easily hung using a wall-to-wall system.
Made from Class 1 fire-rated Willtec® foam, WhisperWave® products are offered in standard and custom sizes and curve patterns. WhisperWave® products are lightweight and easy to install. The line also includes ceiling clouds, panels and awnings.