FAQ: Will Acoustical Wall Panels Ruin the Look of My Facility?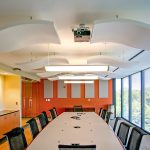 Acoustical wall panels are the most common way to lower noise and increase intelligibility in facilities, but do they look good?
The answer is a mixed bag. Acoustical wall panels are usually the result of a retrofit—no architect intentionally designs a facility to have bad acoustics—usually it just wasn't taken into consideration.
The bad acoustics become evident later, and the sound absorbing materials are sought out. A few decades ago the acoustics industry only offered wall panels in a few materials and colors. The design was more for function than form. Luckily, today there are more options. Options include: shape, color, material, and placement to satisfy facility managers and designers.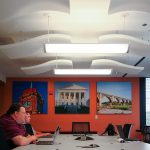 Acoustical Wall Panels can also be installed on the ceiling, flush or suspended (referred to as a cloud) and instead of a static, flat panel, sound absorbing products like Whisperwave® Baffles and Clouds add movement and interest to a space. Panels can be made into cut-outs, different shapes, and our Art Acoustic Panels can even be printed with any high-resolution photo or graphic. The design possibilities for sound absorbing acoustical panels have really opened up in the past few years. Some acoustical suppliers and manufacturers can be very flexible with new ideas and requests for panel design.
Examples of our work
Here are some photos of recent acoustical wall panel installations done by us at Acoustical Solutions, LLC. Did the panels take away from the look of the space? Let us know what you think!
Fabric Wrapped Acoustic Panels
---
To learn more about how Acoustical Solutions can solve your noise control problems, use our contact form, call one of our Acoustical Sales Consultants at (800) 782-5742, or visit us on the web at acousticalsolutions.com.