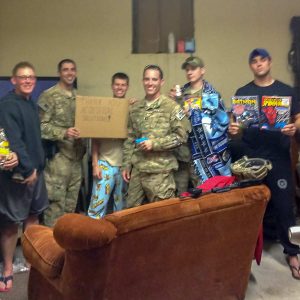 According to a recent study by the Department of Veterans Affairs (VA) Rehabilitation Research and Development Service, "hearing loss affects 31 million Americans, particularly veterans who were exposed to harmful levels of noise during military functions. Many veterans also receive treatment with ototoxic medications, which may exacerbate preexisting hearing loss. Thus, hearing loss is the most common and tinnitus the third most common service-connected disability among veterans".
So, in public facilities that have poor acoustics and intelligibility, like worship halls, classrooms, or auditoriums, many of the patrons who suffer the most are likely our veterans.
Intelligibility of speech and music in any facility depends largely on the reverberation time. If the reverberation time is too long, sounds get muddled and blend in with one another, decreasing their clarity. Reverberation time can be decreased with sound absorbing materials, which include:
Acoustic Wall Panels are probably the most common acoustical treatment because they address the number one culprit behind long reverberation time (hard,bare surfaces) and they are versatile – available in many materials, and in almost any shape or color.
---
Banners and baffles are also great sound absorbers but are meant specifically to hang from ceilings. They are effective at lowering reverberation in very large spaces like stadiums or gymnasiums.
---
Replacing the ceiling tiles in the existing drop tile grid in your facility is an easy way to add sound absorption to a space. Luckily, acoustical ceiling tiles also come in a variety of materials to suit the look you are trying to achieve.
---
Acoustical Foam is probably the most affordable acoustical treatment and can be installed on walls or ceilings for high and mid frequency sound absorption.
This Veteran's Day, take the time to thank your friends, family members, or neighbors who have served, or are serving, our country overseas. At Acoustical Solutions, we value our service members and make an effort to thank them whenever we can – by donating acoustical materials to USO centers abroad, sending care packages, or writing letters. Any little bit you can do to show your support makes a difference. (This includes making sure your facility accommodates those with hearing loss!)