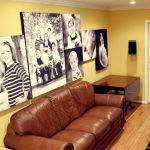 Traditionally, acoustical treatment has been made with functionality in mind, aesthetics taking a backseat. The way we think about and use noise control products, however, has changed. Our new range of artistic acoustical products is a reflection of this movement. New prints and shapes make noise reduction truly artful.
New Prints
A popular trend is adding images to acoustical wall panels.
What is unique about printed wall panels is that it disguises the treatment as a work of art. Businesses can print photos and logos of any size on their acoustical treatment. This adds to the look and sound of the space.  Acoustical Solutions' AcoustiArt and AcoustiDesign panels both use the new technology of acoustically transparent inks and fabrics, which do not interfere with the reverberation and echo-reducing capabilities of the acoustical wall panel.
The difference between the two types of printed panels:
AcoustiArt panels are fabric wrapped using the traditional method for standard panels and are attached to the wall with Z-Clips or impaling clips.
AcoustiDesign Panels are fabric wrapped with a special backer that allows the panel to hang on the wall. This is more like traditional artwork and can be moved depending on preference.
New Shapes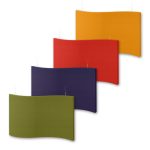 A more permanent, striking way of adding artful absorption to walls is a printed fabric stretch panel. AcoustiWall Fabric Stretch Systems have the same noise reduction capability of a panel but are built on site. These acoustic fabric stretch panels can be made to any size or shape, curved or flat, and create a dramatic finished product.
Aside from images, acoustical treatment has recently taken on new shapes and placement allowing for it to stand out and add to the overall design of a space.  Whisperwave® Ceiling Cloud and Whisperwave® Sound Baffles are both examples of treatments with eye-catching organic shapes that are sure to be a conversation piece.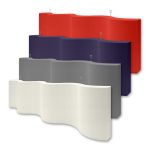 Whisperwave® Ceiling Cloud  and Whisperwave® Sound Baffles are curved foam structures that absorb sound while being suspended from the ceiling either vertically or horizontally.  Made in varying sizes and lengths, they create a pleasing wave pattern unlike any acoustical treatment previously available.