Noisy Restaurants: Diners Notice, and it Can be Fixed
I'm going to be honest…before coming to Acoustical Solutions, I paid very little attention to acoustics. I understood what soundproofing meant, but I had no idea there were so many products dedicated to manipulating the way sound behaves in a given space.
Now that I have been in the industry for a while, constantly writing about and relearning the science of sound, I can't help but notice the noise level in every bar or restaurant I spend money at. Probably because I now know something can be done about it and am slightly irritated when it is not.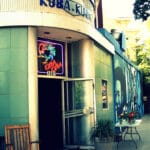 Here is an example: There is a restaurant about two blocks from my apartment here in Richmond, VA called Kuba Kuba. It is amazing. Seriously. I cannot express to you the happiness one feels when they have a brunch of Cuban roast pork, fried plantains, and cafe con leche…mmmm…wait, what was I talking about?
I probably go here about every other week. The last time I went was on a Saturday for brunch, and apparently everyone else in Richmond went too. It is not a huge place and almost every table and booth were full. My friend and I didn't really mind the noise at first. This is our favorite restaurant and the hip atmosphere and to-die-for food should make up for every other potential shortfall. Wrong.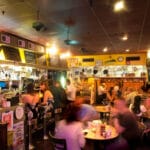 We couldn't talk to each other at all. My friend has a weirdly deep voice, and it magically disappeared into the background noise. At about the fifth 'what??' I yelled to him across the table in response to his small talk, he gave up and so did I. We were so annoyed at one another we payed attention only to our food until we were finished. This even made us edgy after leaving the restaurant.
In summation—noise level matters. Acoustics matter in a restaurant no matter how great your food or atmosphere is. I'm not saying I won't go to Kuba Kuba again, but I will definitely avoid going with anyone I really want to talk to.
I'm not the only person who notices noise in restaurants, either. There was an excellent article published on June 8, 2012 in the Los Angeles Times titled "Noisy Restaurants: Taking the Din out of Dinner". It discusses the recently increased focus on noise level in restaurants, partly due to the shift in architecture and design of these spaces. Here is one of my favorite quotes: "As restaurateurs strive to attract a younger crowd, they've ditched the pile carpets, soft tablecloths and plush velvet booths for crowded communal tables, clattering open kitchens and pounding Rihanna music. And it's all amplified by cavernous ceilings, spartan walls and bare floors." That pretty much hits the nail on the head. You can't change the way a space is laid out without changing its acoustics, in this case, for the worst.
The article goes on to report that according to a national Zagat survey, noise has become the second biggest complaint among diners and in Los Angeles the percent of diners who rated noise as their top peeve jumped from 12 to 18 between 2010 and 2011. And popular reviewing sites like Yelp and Urbanspoon now give the option to rate restaurants on noise for everyone to see. Here is a review I found on Urbanspoon for Kuba Kuba:
"I ordered the beans and rice with pork which was excellent. Had tostones for appetizer, which were delicious. I just didn't like the fact that I could hear the cook yelling and screaming at his wait staff as I ate my dinner. I also found the dining room to be too cramped and clatter-y"
Acoustical Solutions, LLC. has acoustically treated many restaurants in the Richmond area, and all over the country. I kick myself for not saying anything to the staff at Kuba Kuba, but I was desperate to leave after the noisy meal and I'll have to wait for next time.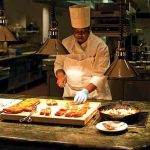 When you're dealing with a restaurant, the usual acoustic treatments consist of sound-absorbing acoustic wall panels or acoustic clouds, which are panels suspended horizontally from the ceiling. acoustic ceiling tiles are an easy and fast way to install sound absorption to an existing drop ceiling system, and depending on the noise issue, soundproof doors may also apply. We recently used panels, ceiling tiles, and a soundproof door to keep kitchen noise from traveling down a hallway into the dining area at the historical Occidental Restaurant in D.C., and wipe-able AlphaEnviro wall panels in the open kitchen of the Lodge Restaurant in Colonial Williamsburg. Treatment is decided entirely on a case by case basis.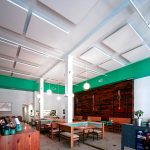 We are actually working with another Richmond restaurant currently, called Pasture, located Downtown. Here is an online review for this eatery:
"The food was really good, we especially enjoyed the fried chicken (perfectly seasoned) and the crackers and pimento cheese (very creamy). We also enjoyed the unique offerings on the cocktail menu, especially the Surry—smoked ginger syrup, bourbon, and ginger ale. Unfortunately, we didn't get there in time for the cheeseburger as it had already sold out that evening. The decor is minimalistic, fresh and airy and the atmosphere is VERY LOUD"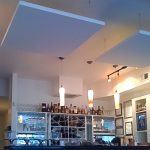 Oh no! This restaurant has been open for less than a year, so they will definitely need to find a way to lower the noise level to a comfortable volume if they want to gain a strong following. After taking a look around the place, our acoustical experts decided clouds were the best way to go. These will bring down the echo—created by the high ceilings — substantially. Here is a photo of some clouds we provided to the Three Peas Lounge in Chicago, we can only imagine how great they will look in Pasture! Check back soon for photos of the finished product!
See more restaurants we've acoustically treated in our case studies.
---
To learn more about how Acoustical Solutions can solve your noise control problems, use our contact form, call one of our Acoustical Sales Consultants at (800) 782-5742, or visit us on the web at acousticalsolutions.com.