We have a number of soundproofing and noise control videos produced just for you at Acoustical Solutions' YouTube Channel. We would like to highlight a few that suggest specific methods and materials for treating certain spaces such as gyms, offices, houses of worship and broadcast/ recording studios.
This video explains the different products and methods to use when acoustically treating a home theater or media room.
It also illustrates the difference between soundproofing (stopping noise from entering or escaping the space) and noise control (enhancing the sound quality within the space), both of which are very important in residential applications!
Also, you can check read and see images of some of the residential projects we have proudly completed.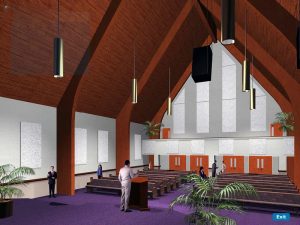 This video explains the various options available to folks interested in acoustically treating their house of worship.
It also includes a sound and video example of how dramatically sound diffusers effect a large room's sound quality.
We have completed many projects using some very creative solutions.
In addition to videos, you can read about some of the churches, sanctuaries and fellowship halls we have improved.
Next week we'll continue with soundproofing and noise control videos for offices/conference rooms, industrial facilities and gymnasiums.  See you then!