Thanksgiving Acoustics: Cutting Crowded Kitchen Clatter
Thanksgiving Is Right Around The Corner, And To Most Americans This Means Two Things
Spending time with family and friends while reflecting on everything we have to be thankful for.
FOOD. (*Your grandma's pumpkin pie might, in fact, be what you are thankful for.)
With such a heavy focus on food during this Thanksgiving season, commercial and residential kitchens alike are bustling, crowded, and probably the loudest they will get all year. With many hard, flat surfaces such as metal tables, stainless steel appliances, and granite counter tops, a crowded kitchen can quickly turn into an unbearably loud one.
This is an even bigger problem for commercial kitchens at hotels or restaurants when an open layout designed for ease of service unleashes the cooking cacophony upon patrons.
Here are a few tips for lowering kitchen noise that we hope you will be thankful for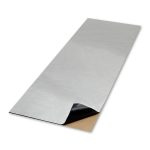 The source of some of the harshest kitchen clatter comes from tabletops. Food prep on metal tables creates pings and pangs that are loud to begin with and are amplified with reverberation. To stop this sound at the source, you must prevent your table from vibrating in the first place. Adding material to the underside of the tabletop that will absorb vibration is an easy and non-visible solution.
Vibration damping sheets is a product that works well for this application. They are a self-adhesive sheets used for sound and vibration control on metal panels.
Another large contributor to kitchen noise is large kitchen equipment and machinery like dishwashers, ice makers, refrigerators, and freezers. Anything that vibrates will contribute to structure borne noise because sound is vibration transferring through a medium. To stop structure borne noise, put these pieces of heavy equipment on isolation mounts or pads.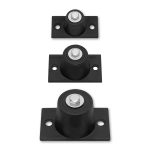 To reduce airborne noise from the same equipment, absorber/barrier combination acoustical blankets can be used to construct enclosures.
*If you choose this route, make sure you plan out access openings and proper cut outs for ventilation.
See examples of acoustical blankets for large machinery.
All noises made in a space are made worse when the space is reverberant. Reverberation is the reflecting and deflecting of sound waves off of hard, flat surfaces. This extends the audible life of noises, and aside from raising the decibel level, also ruins speech and music intelligibility. To lower reverberation, you can add sound absorbing materials.
These products include acoustical wall panels and acoustical ceiling tiles. They reduce reverberation time by reducing the chances a sound wave will strike a reflective surface.
Read about the acoustical panels and ceiling tiles that lowered kitchen noise at the Lodge Restaurant in Colonial Williamsburg, VA
Once You Reduce Noise At The Source — In The Kitchen — You May Also Be Concerned About The Noise Escaping Into Other Areas
Soundproof doors are a great solution for commercial kitchens with STC ratings of up to 57, meaning most sounds in the kitchen will be inaudible on the other side of the door. This is not a realistic solution for residential applications, but a door seal kit is an affordable way to retrofit your existing door, creating a more airtight, soundproof entryway.
Now that you know a little more about how to reduce common kitchen noises, you can focus on what we're all most thankful for: family, friends, and FOOD! Contact us online or call us to learn more about these and other acoustical products. Happy Thanksgiving!
---
To learn more about how Acoustical Solutions can solve your noise control problems, use our contact form, call one of our Acoustical Sales Consultants at (800) 782-5742, or visit us on the web at acousticalsolutions.com.