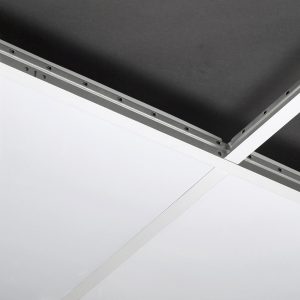 Soundproofing isn't just for walls. Our acoustic ceiling tiles can go right into an existing T-bar suspended grid system. We have a large variety of acoustical ceiling tiles for sound control and noise reduction. Our acoustic ceiling tiles both augment the quality of sound and the appearance of your facility. Depending on the nature of your project, choose between a variety of finishes and substrates for the right features.  Our acoustic ceiling tiles fall into three major categories. Ceiling tiles may absorb sound, block sound or scatter sound.
Sound Absorbing Ceiling Tiles
Sound absorbing ceiling tiles are the most common. Absorptive Ceiling Tiles help to reduce the reverberation reflecting within a space. Our selection of ceiling tiles provides higher absorption ratings over traditional ceiling tiles to maximize sound control. Many of our ceiling tiles are manufactured with a high-density fiberglass board. Other substrates like acoustical foam and polyester are also available. Our selection of ceiling tiles offers aesthetically pleasing options, cleanable and Eco-friendly finishes, insulation value, impact resistance, fiber optic lighting and more.
Selection
For the best color selection or if you are looking for a ceiling tile to match your fabric wrapped panels, then the AlphaSorb® Acoustic Ceiling Tile is the perfect choice. If you desire a tile with a white Eco-friendly finish, use Sustainable Series. For projects that require custom colors, consider using the AlphaSorb® Paintable Acoustic Ceiling Tile. If your application requires excellent sound absorption and a simply black or white finish is acceptable, you may be interested in the Signature Acoustic Ceiling Tile. Our AcoustiTherm Acoustic Ceiling Tile is available in black or white but with the added benefit of increasing the insulation value of your grid system. A popular choice for home theaters, the AlphaMidnight Tile provides a blackout ceiling or, if you want the ceiling to look like stars, the AcoustiLight Tile includes fiber optic lighting.
Moisture Resistant
If you need cleanable options, we have a few. AcoustiTherm, AlphaEnviro®, PolySorpt®, and Sonex® Clean all have wipe-able surfaces. Our AlphaEnviro® Ceiling Tile is also available completely sealed and encapsulated in PVC for environments with high humidity. The PolySorpt® Ceiling Tile is an all-in-one product, providing impact, moisture, bacteria and fungi resistance.
Other Substrates
Some other options include ceiling tiles manufactured from acoustical foam, polyester, wood and metal. Manufactured of Class A acoustical foam, Sonex® Contour and Sonex® Harmoni are highly absorptive ceiling tiles that easily drop into existing 2′ x 2′ grids or 2′ x 4′ grids using cross tees.  If you require a material that is impact resistant, choose between white or beige Polyphon™ Polyester Tiles. If you are looking for an economical wood ceiling tile that is also paintable, check out our AlphaSorb® Wood Fiber drop-in tile.
Sound Blocking Ceiling Tiles
In some cases, you may wish to prevent sound from going through a ceiling grid system. Ceiling grid systems in most buildings will only have partition walls that stop where they meet the grid. If the walls do not meet the roof, sound can easily flank through the grid into the next space. You might also want to prevent mechanical noise from seeping into your office. You can harness the power of absorbing and blocking sound by replacing all the ceiling tiles in your grid with Signature Sound Barrier Ceiling Tiles. If you already have existing ceiling tiles, our PrivacyShield™ Ceiling Tile Barrier just installs directly over the existing tile, keeping your budget intact.
Sound Diffusing Ceiling Tiles
Sound diffusing ceiling tiles will scatter and disperse sound that strikes the surface. The shape of a typical sound diffuser is not flat.  This redirects the sound in a different direction, reducing the sounds intensity without removing the sound like an absorber would. This helps to improve sound clarity and is particularly useful in critical listening environments. The AlphaDiffuser™ is available in three different patterns to suit your style. The concave and convex patterns are available in a fabric faced version with the AlphaDiffuser™. If you are looking for a more traditional approach to sound diffusion, there is the Barrel Diffuser and Pyramid Diffuser, which are available in larger sizes if necessary.