---
Green Glue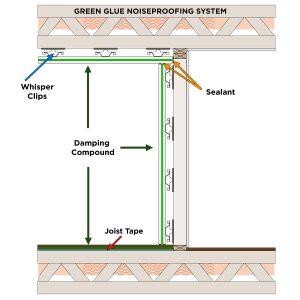 Green Glue Soundproofing products provide economical solutions for reducing sound transmission in commercial, residential and industrial applications. When applied in wall, floor and ceiling assemblies, the damping compound, Whisper Clips, sealant and joist tape assist to diminish the amount of sound and noise being passed from room to room.
Apply Green Glue Damping Compound between layers of rigid construction materials to reduce sound and noise transmission. Green Glue compound may be combined with the use of Whisper Clips to provide additional resiliency to the structure. Once structures are in place, be sure to use the Green Glue Noiseproofing sealant to prevent sound leakage through holes, gaps or seams. Installed beneath flooring, the Green Glue Noiseproofing Joist Tape helps to eliminate squeaky floors and lower footfall noise. Typically combine with sound barriers, underlayments and other construction materials, Green Glue products aid in building heavy-duty, sound blocking structures.
These products are easy to use and make a great option for a DIY project or a larger scale construction. Understanding that Green Glue products work as part of a complete system, grants us ability to create and offer more extensive solutions for architects, contractors and the home DIY enthusiast. Be sure to include these as part of your next new construction or retrofit soundproofing project.

Showing all 6 results
Green Glue 5 Gallon Applicator Gun

Green Glue Damping Compound (12 Tubes)

Sold By

:

The Case




Green Glue Damping Compound (5 Gallon)

Size

:

5 Gallon




Green Glue Noiseproofing Joist Tape

Green Glue Noiseproofing Sealant (12 Pack)

Sold By

:

The Case




Green Glue Whisper™ Clip