There are two main reasons for soundproofing a restaurant. The first – and most common – reason has to do with echo and reverberation in dining areas. When hard, flat, parallel surfaces are exposed, crowded dining rooms quickly become uncomfortable.  As sound waves from conversations and rattling plates bounce off of floors, ceilings and walls people raise their voices to be heard.  Unfortunately, this only makes the noise problem worse, so it is often times a never-ending cycle. Customers want to be able to hear each other and servers need to be able to clearly hear orders, but neither of these things are possible when reverberation and echo take over a dining room.
Another reason restaurants need acoustical treatment is because they either want to keep noise in or out.  If bands play late at night neighbors tend to complain, so stopping the sound from escaping is very important.
Sometimes, however, it's the noise outside that presents a problem.  Creating a peaceful ambiance isn't easy when noise from traffic, other restaurants, etc. is seeping into your dining room, so stopping noise from entering the space can also be very useful.
Below you can see some of the solutions we've created for restaurants over the years.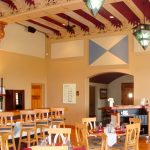 Burrowing Owl Estate Winery sits on a southwest-tilting, sandy plateau along the northernmost tip of the Sonora Desert in Oliver, BC, Canada.
The location is ideal for growing world-class grapes and vinting world-class wines.
One of the many places to enjoy those wines is Burrowing Owl's restaurant, the Sonora Room.  Like the rest of the winery, the Sonora Room has everything it needs to be world-class, including views of the 125-acre vineyard, expert chefs and access to superior local produce.
Until January 2010, however, the one thing the Sonora Room lacked was a comfortable sound environment.
Read about this application's acoustic treatment and results!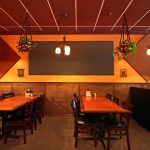 The company next to Giovanni's had just gone out of business, and like any good businessman, John Failla saw opportunity.
John, the owner of Giovanni's, made the decision to expand his Italian restaurant into the vacant space next door.  After expansion and renovations were complete, however, a problem arose that many business leaders overlook.  Noise.
Almost immediately after the new section at Giovanni's opened, the complaints began.  Customers and servers alike complained about not being able to hear or communicate, which is a big problem in a friendly, sociable environment like Giovanni's.
Read about this application's acoustic treatment and results!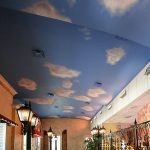 With severely limited wall and ceiling space, Roma only had a very small gap with which to acoustically treat its dining room. Acoustical Solutions, Inc., however, was able to provide acoustic foam that used a little space to help in a lot of ways.
The acoustic foam panels, which are used in various soundproofing and noise control situations, worked perfectly for echo reduction, noise reduction and reverberation control in Roma.
Another goal was to have the foam wall panels blend in. Can you spot them in the picture?
Read about this applications acoustic treatment and results!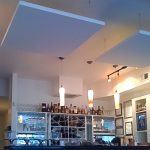 Management at Three Peas Art Lounge in Chicago contacted Acoustical Solutions, Inc. with questions about soundproofing and noise control because they noticed an echo and experienced high noise transfer from the apartment above their gallery.
After suggesting various noise reduction techniques, Acoustical Solutions, Inc. was able to supply Three Peas with acoustic panels and a sound barrier.  Today, these solutions reduce echoes considerably while effectively stopping noise from transferring into or out of the space.
Read about this application's acoustical treatment and results!