What are Ceiling Sound Baffles?
Introduction
Acoustical ceiling treatment is sometimes the only way to address noise issues within certain spaces. If the space is a large, open area with not a lot of wall surface available for acoustical treatment, ceiling sound baffles can be the most effective option. Similarly, even if the room is small but is getting sound reflection specifically from high ceilings, ceiling sound baffles provide an easy way to break up the noise that is reverberating in the space.
What Are Acoustic Baffles?
Ceiling sound baffles are an effective and inexpensive acoustic ceiling treatment that suspends down vertically to increase speech intelligibility and sound clarity. Our acoustic baffles are an excellent choice for use in spaces that are large, have limited wall space, or need materials out of reach. Since the product installs vertically, both sides have exposure to sound. With an increase in surface area, there is an increase in its ability to reduce reverberation.
We manufacture our ceiling sound baffles using fiberglass, acoustic foam, and recycled cotton core materials to offer the best sound absorption. In addition, some finish options include fabric for design-ability, vinyl for cleanability, ripstop for durability, and a sanitary option for food & drug processing areas. Using tie wraps, wire, factory mounted grommets or corkscrew hangers, you can easily suspend sound baffles from the ceiling.
Why Are Ceiling Sound Baffles Important?
Ceiling sound baffles provide absorption to a space in need of sound clarity and speech intelligibility. Absorption lessens the echo and reverberation within the room it is installed within.
Ceiling treatments are a great place to start! Reverberation can often give the impression that there is an obnoxious noise in the background. This is mostly caused by the overall volume in the room; therefore, it can lead to ear fatigue and lower concentration for the listener.
Regardless of the space, adding sound absorption to your room will make a noticeable difference instantly.
How do Acoustic Baffles Help Treat Sound Reflections?
Acoustic baffles are free hanging sound absorption products that are often used to acoustically treat large rooms such as gymnasiums and lobbies.
By hanging from the ceiling, baffles reside in space where sound tends to get "stuck". This is because there isn't anything up that high to absorb or diffuse the sound waves.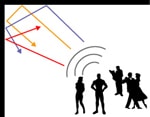 Sound reflects off of hard surfaces (walls, ceilings, floors) in rooms and continues to echo or reverberate often for long periods of time.
The lingering sound decreases speech intelligibility and generally makes communication difficult. As communication becomes more difficult, voices tend to rise, which only perpetuates the problem.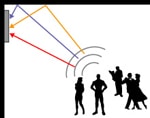 Acoustic wall panels are a great choice when trying to combat the problems described above (echo and reverberation). They absorb direct sound and, if placed correctly, sound that has bounced off other surfaces (walls, ceiling, floor).
This absorption greatly reduces reverberation and echo within rooms, which increases speech intelligibility and communication in general.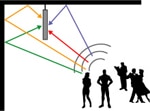 Generally, use acoustic baffles when wall space is limited or when the room is very large. Just like wall panels, they absorb both direct and reverberant sound.
The difference, however, is that all sides of a baffle are exposed and able to absorb sound. The increased surface area is one of the main reasons baffles are used in large spaces.
Examples of Ceiling Sound Baffles
AlphaEnviro® PVC Sound Baffles are an inexpensive ceiling treatment that are suspended vertically to reduce and lower excessive reverberation times in large, open spaces. By interrupting the path of the noise, these economical hanging baffles reduce sound reverberation. Easy to maintain, PVC Sound Baffles have a wipe-able surface. Perfect for a variety of applications from indoor pools to multipurpose rooms, installation is simple using hardware through the grommets on the top width edge.
For environments that require durable, abuse resistant acoustical treatments, we suggest AlphaEnviro® Ripstop Sound Baffles. The strong, nylon ripstop sailcloth finish makes these baffles perfect for gymnasiums and manufacturing. Choose from custom sizes up to 4'x 10′ in an array of bold colors. Like the above-mentioned PVC baffle, suspend Ripstop Sound Baffles from ceilings, bar joists, and truss systems.
FDA approved and USDA listed, use the Sanitary Sound Baffle for sound reduction in areas where sanitary conditions are required. Both rip and stain resistant, this baffle has a watertight seal on all edges. The latest film technology creates these economic sound baffles that are durable, chemically resistant, and dimensionally stable. In addition, it's tough enough to be washed down while still maintaining high sound absorption values.
Another option that meets FDA/USDA requirements are the Sonex® Clean Acoustic Sound Baffles. Offering excellent sound absorption, these baffles are the ideal choice for environments that require washable, cleanable materials. Made from a sound absorbing melamine foam core, they are perfect for a variety of applications including food processing plants. Available in an assortment of stylish colors, Sonex® Clean Acoustic Sound Baffles are fully encapsulated in FR taffeta vinyl for a long life.
We recommend Polywrap Sound Baffles in areas that require an efficient solution to industrial noise control problems at a competitive price. For hard, reflective environments such as industrial plants and woodworking facilities, these ceiling sound baffles are a terrific choice. Comprised of heat-sealed polyethylene bags containing sound absorptive fiberglass, each baffle has two grommets for easy suspension. These are an excellent choice for areas that need lots of noise reduction with a decorative finish.
Check out EcoSorpt® Cotton Sound Baffles for an eco-friendly and inexpensive ceiling treatment option. The natural cotton fibers are 100% recyclable and made from at least 80% post-industrial recycled content. This makes them a natural fit for LEED® certified projects. With EcoSorpt® Cotton Sound Baffles, there is less landfill, less pollution and less energy consumption in the manufacturing process.  To reduce ambient noise levels and excessive reverberation in large open areas, easily suspend these baffles from the ceiling.
For design versatility and exceptional sound absorption, look no further than the Sonex® Rondo Sound Baffle. Similarly, suspend these ceiling sound baffles either vertically or horizontally in any large space that requires improved speech intelligibility. Offered in natural white, grey, and a variety of HPC coated colors, the Sonex® Rondo Sound Baffles are available in lengths up to 24" with 6" or custom diameters to create unique designs.
Whisperwave® curved accent products allow you to unleash your creativity while reducing noise and reverberation. Made from Class 1 fire-rated acoustic foam, Whisperwave® Baffles are offered in standard and custom sizes and curve patterns.
Whisperwave® Ceiling Clouds are suspended on ceiling-mounted cables using corkscrew hangers. They differ from Whisperwave® Baffles in that the clouds are hung from four points while the baffles are hung from two points.
Tips And Reminders For Ceiling Sound Baffles
If you're working with an architect or designer on your acoustical ceiling treatments, they should draw up ceiling plans and mounting solutions based on the installation guides provided on each of our product pages. This gives installers details and instructions, so they are ready when the products come off the delivery truck.
Furthermore, make sure to prep the installation area. Even in a newly constructed space, you'll want a ceiling clear of anything obstructing the installation process.
Summary
All Acoustical Solutions' ceiling sound baffles have been engineered for optimal acoustic performance for ceiling treatments, making them the best option for your acoustical needs. Our diverse product lines offer architects, designers, contractors, and residential customers so many options, no matter what their acoustical needs might be. And of course, if you have questions or need any guidance at all to get started, our sales team is always ready to help. Contact us any time for customer service you can rely on.
---
To learn more about how Acoustical Solutions can solve your noise control problems, use our contact form, call one of our Acoustical Sales Consultants at (800) 782-5742, or visit us on the web at acousticalsolutions.com.