Interview Room Sound Transmission and Reverberation Issues
From privacy to sound quality, sound and noise issues in an interview room are very important. Privacy issues arise when sound transfers between two spaces. Poor quality recordings are a result of echo and reverberation in the room. Below we'll tell you how to effectively fight these soundproofing and noise control issues.
Blocking Sound Transmission
Transmission between two spaces occurs when there is not enough mass density to block sound from traveling THROUGH materials. Improper insulation techniques, thin drywall and poor seals along the perimeters and doors can be the cause. To block sound, you must build wall, floor and ceiling construction assemblies.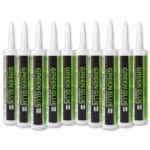 Adding an additional layer of 5/8″ drywall to each side of the wall will greatly improve the Sound Transmission Coefficient (STC) of said wall. This should be done with Green Glue and standard 5/8″ Drywall. Drywall is very expensive per sheet. So, the combination of 2-3 tubes of Green Glue per 1 sheet of Standard 5/8″ drywall (4′ x 8′ = 32 square feet) is the affordable alternative providing good results.
Green Glue may also be used in conjunction with other construction materials like resilient clips, sound barrier, acoustical caulk, putty pads and door seal kits to increase the STC of the overall assembly.
Another serious but often overlooked area of transmission between spaces could be the plenum. Sound can go up and "flank" off of the decking and redirect back down into adjacent rooms. This can happen if the dividing wall between areas does not continue all the way to the deck of the building and there is a drop tile ceiling in each space.
This is a common occurrence in schools, office buildings, and hospitals. Restore privacy by adding ceiling tile barrier on top of the existing tile or by replacing the tile with a type that has a barrier back on it. Replacing all of the existing ceiling tiles can be expensive, so PrivacyShield® Ceiling Barrier is the most commonly used product.
Improving Interview Room Acoustics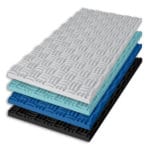 Interview rooms and interrogation rooms also need to be free of reverberation in order to guarantee a crystal clear recording of those speaking. A small room with glass, sheet-rock and tile floor will be very reflective. This will seriously "muddy" the recording of an interview or confession. A simple way to address this is to add a layer of sound absorption foam to the walls. You don't need to cover all of the walls and ceiling. Simply covering the walls beginning at about 36″-48″ from the floor and continuing to the ceiling would do it. If you have a mirror wall, treat the other 3 walls with foam. I would recommend a melamine (ceramic-based) foam since most polyurethane foams will not meet the fire code. Sonex® Classic acoustical foam, HPC coated, is a good choice because the coating allows the foam to be wiped off and cleaned from time to time, whereas other foams are porous and cannot be cleaned.
To create a soundproof interview room, first look to the wall and ceiling construction and add materials to block sound. Then, improve the acoustics in the room by adding sound absorbers to reduce echo and improve speech intelligibility.
---
To learn more about how Acoustical Solutions can solve your noise control problems, use our contact form, call one of our Acoustical Sales Consultants at (800) 782-5742, or visit us on the web at acousticalsolutions.com.