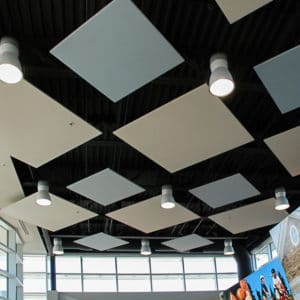 Our acoustic ceiling clouds are suspended horizontally from ceilings to help with your architectural design goals and in reducing ambient noise in a space. They come in a variety of materials, sizes and shapes and are fire rated to meet public building code requirements. With a variety of available finishes, including fabric wrapped ceiling clouds, foam ceiling clouds, and metal clouds. With this many options, You are sure to find a perfect fit to meet your design requirements. Combine noise reduction with a modern appearance to reduce reverberation in just about any application including auditoriums, restaurants, atriums and multipurpose rooms. Stand out or blend in. With our acoustic ceiling clouds, you have a lot of choices.
Fabric Wrapped Ceiling Clouds
For a durable and refined acoustic solution, we suggest AlphaSorb® Ceiling Cloud Mount Panels. Available in a range of sizes up to 4′ x 10′, these suspended clouds are available in the full line of Guilford of Maine FR701 fabric line. Add extra style by choosing a bevel, radius and miter edge detail. You may also choose from several different fabric styles and colors in the Anchorage, Studio 54, Whisper, and SoundSuede™.
If lead time is important to you, consider the AlphaSorb® Quick Ship Acoustic Ceiling Cloud. Available in select colors, you can mix and match sizes and colors to achieve any look. Easy to install, these acoustic ceiling clouds are the perfect DIY solution for your space. This quick solution is great for a variety of areas including offices, conference rooms, and recording studios.
If you are looking for an Eco-friendly solution, we recommend our Sustainable Series Cloud Mount Panel. The Ecose Fiberglass panel is wrapped in a white sustainable Eco-Fabric. If your project calls for a product that will meet green building standards, this is fantastic choice.  Each formaldehyde-free panel contains a minimum of 30% post-consumer recycled bottle glass. By using an organic bonding agent, the product is 70% less energy intensive than traditional petroleum-based bonding agents. The Sustainable Series Cloud Mount Panel can earn your project LEED points.  
Make a bold statement with AcoustiCloud Ceiling Clouds. With a wide variety of colors of Guilford of Maine Fabric to choose from and with up to 23 different shapes available, these clouds make a statement. Virtually indestructible, AcoustiCloud Celling Clouds do not require special care during installation. These colorful, bold styles inspire whimsical acoustical creations.
Acoustic Foam Ceiling Clouds
A sound solution option with a unique appearance is Whisperwave® Ceiling Clouds. These popular acoustic ceiling clouds have a curved accent which gives reducing noise and reverberation a chic look. Available in numerous colors and made from fire-rated melamine foam, Whisperwave® Ceiling Clouds add dimension and style to every room. Suspend a single cloud or group them in creative bunches. Mount the clouds either flush to the ceiling or float them for drama, either way these clouds make a statement.
For a metal finish that blends in more with the ceiling, try the AlphaPerf® Metal Cloud. Available in 10 vibrant colors, a flat or v-groove pattern, and different thicknesses and sizes, you will be sure to find a metal cloud for every room. These elegant clouds reduce reverberation and echo and improve speech intelligibility.