Soundproofing a Wall
Problem: Sound Or Noise Is Either Entering Or Leaving My Room.
Solution: Decouple & Strengthen The Structure To Prevent Sound Leakage.
Building a soundproof wall to block sound transmission requires materials that are mass loaded, dense, and/or resilient. You would use these materials in the construction assembly of a wall, floor, or ceiling. You can achieve your sound-blocking goals by using the materials outlined in this post. Most of these methods will pertain to blocking sound for wall applications, however, you can apply many of the same principles for ceilings and floors.
Inherently, you will need to construct an assembly that contains multiple layers. The layers will be comprised of dense materials and components to separate the structures. The objective will be to structurally seal, isolate and decouple the adjacent structures from one another.
Blocking sound requires the complete area to be reinforced or a sealed enclosure around the sound source, as it takes a system of materials to construct a soundproof wall.
Acoustic Materials Used in Soundproofing a Wall
Simple Soundproof Construction Assemblies
Wall / Ceiling Assembly Examples
Please reference construction assembly examples below as a guide for a typical sound-blocking wall when in the pre-construction phase. A soundproof wall construction may consist of various materials that include AudioSeal® Mass Loaded Vinyl (MLV) Soundproofing Barrier, Green Glue Noiseproofing Compound, RSIC Clips, sound sealant, and other basic construction materials.
Ceiling Assembly Example
Blocking sound in a ceiling assembly follows the same principles as wall construction. Below is an example of a ceiling assembly using insulation, AudioSeal® Mass Loaded Vinyl Soundproofing Barrier, Resilient Isolation Clips, Green Glue, and multiple layers of sheetrock or drywall. Using Iso-step® Soundproofing Underlayment on the floor above provides an impact-resistant layer underneath the flooring. This will help prevent footfall noise and airborne sound from transmitting through the structure. To read more about using Iso-Step® Soundproofing Underlayment, read this post on using Iso-step® Soundproofing Underlayment to reduce Impact Noise.
Studs & Insulation, Then Add a Sound Barrier
Why Mass Loaded Barrier? Because it's as heavy as lead, weighing in at 1 Pound Per Square Foot. At only 1/8″ thick, you will save space in your wall construction. Installing AudioSeal® Mass Loaded Vinyl Soundproofing Barrier on the studs prior to building a finished wall will add a limp mass barrier to the construction. This improves the STC value of the complete assembly. Line the stud cavities with fluffy insulation. This helps prevent resonance and ringing in the open cavities, also improving STC value. The AudioSeal® Mass Loaded Vinyl (MLV) Soundproofing Barrier is available on rolls typically 54″ wide x 30′ long. This easily cuts with a utility knife.
The MLV barrier can be tacked or nailed to existing studs or glued in between layers of sheet rock. If installing over existing sheetrock, you can glue the barrier using a vinyl construction adhesive. Large head roofing nails at the top will help suspend the weight of the sound barrier while the adhesive dries. You can see how to install sound barrier in this video.
Isolation Clips With Double Leg Hat Track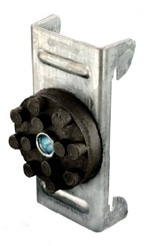 Why Resilient Clips? To decouple the physical structure so as not to transmit sound vibrations. In combination with the AudioSeal® Mass Loaded Vinyl Sound Barrier, adding resilient isolation clips will help decouple walls to break the physical transmission of sound between structural components. The RSIC-1 stops the noise and vibrations that typically transfer through the structure. This will "float" your walls or ceilings. These are used in conjunction with a double-leg hat track (resilient channel). You can purchase hat tracks through a local contractor supply. You can attach drywall or sheetrock to the channel.
Green Glue Between Layers Of Drywall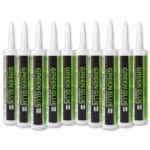 Use Green Glue in between any subsequent layers of drywall. Green Glue provides a viscoelastic sound-damping layer that works like a resilient channel as part of the assembly. When installing the multiple layers of drywall, vary drywall substrate thickness and alternate your seams. This helps create a 'tortured path' for the sound. Allow Green Glue 30 days of drying time for optimal sound isolation performance. Green Glue must be allowed 7 to 10 days of drying time before sound isolation will start to improve. Drying times vary per application.
Be Sure To Seal Up Any & All Air Gaps Along The Way. If Air Can Pass, So Can Sound!
Think about sound in a similar fashion to water. If air or 'water' can pass through the assembly, so can sound! So be sure to seal up any seams or gaps. Firestop Putty pads work great to seal up a single or double gang electrical boxes, as seen here in this installation video. Acoustical caulk can be used to seal seams or gaps in the sound barrier. Likewise, you can caulk around electrical boxes.
HVAC vents can also be an open carrier for sound. If you cannot separate the ducting, the interior can be lined with flat acoustic foam. Plenum Return Silencers can also be used to direct and muffle the sound.
---
To learn more about how Acoustical Solutions can solve your noise control problems, use our contact form, call one of our Acoustical Sales Consultants at (800) 782-5742, or visit us on the web at acousticalsolutions.com.