Problem: Sound or noise is either entering or leaving my room.
Solution: Decouple & Strengthen the structure to prevent sound leakage.
Blocking sound transmission requires materials that are mass loaded, dense and/or resilient. You would use these materials in the construction assembly of a wall, floor or ceiling. You can achieve your sound blocking goals by using the materials outlined in this post. Most of these methods will pertain to blocking sound for wall applications, however you can apply the same principles for ceilings and floors.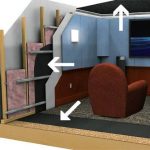 They all inherently need an assembly that contains multiple layers. The layers will be comprised of dense materials and components to separate the structures. The objective will be to structurally seal, isolate and decouple the adjacent structures from one another.
Blocking sound requires the complete area to be reinforced or a sealed enclosure around the sound source.
If you cannot modify the structure, there are some alternatives to construction methods listed at the bottom of this article.
---
Simple Sound Barrier Construction Assemblies
Wall / Ceiling Assembly Examples
Please reference construction assembly examples below as a guide for a typical sound blocking wall when in the pre-construction phase. A soundproof wall construction may consist of various materials that include AudioSeal® Sound Barrier, Green Glue Damping Compound, RSIC Clips, sound sealant and other basic construction materials.
Ceiling Assembly Example
Blocking sound in a ceiling assembly follows the same principles as a wall construction. Below is an example of a ceiling assembly using insulation, AudioSeal® Sound barrier, Resilient Isolation Clips, Green Glue and multiple layers of sheet rock/drywall. Using Isostep® Floor Underlayment on the floor above provides an impact resistant layer underneath flooring. This will help prevent foot fall noise and airborne sound from transmitting through the structure. To read more about using Isostep floor underlayment, read this post on using Iso-step® Acoustic Floor Underlayment to reduce Impact Noise.

Constructing a Soundproof Wall
---
Studs & Insulation, then add sound barrier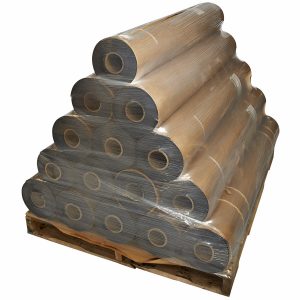 Why Mass Loaded Barrier? Because it's as heavy as lead, weighing in at 1 Pound Per Square Foot. At only 1/8″ thick, you will save space in your wall construction. Installing AudioSeal® Sound Barrier on the studs prior to building a finished wall will add a limp mass barrier to the construction. This improves the STC value of the complete assembly. Line the stud cavities with fluffy insulation. This helps prevent resonance and ringing in the open cavities, also improving STC value. The Mass Loaded Vinyl (MLV) Sound Barrier is available on rolls typically 54″ wide x 30′ long. This easily cuts with a utility knife.
The MLV barrier can be tacked or nailed to existing studs or glued in between layers of sheet rock. If installing over existing sheet rock, you can glue the barrier using a vinyl construction adhesive. Large head roofing nails at the top will help suspend the weight of the sound barrier while the adhesive dries.
---
Be sure to seal up any & all air gaps
(if air can pass, so can sound!)
Think about sound in a similar fashion to water. If air or 'water' can pass through the assembly, so can sound! So be sure to seal up any seams or gaps. Firestop Putty pads work great to seal up a single or double gang electrical boxes. Acoustical caulk can be used to seal seams or gaps in the sound barrier. Likewise it can be use around electrical boxes.
HVAC vents can also be an open carrier for sound. If you cannot separate the ducting, the interior can be lined with flat acoustic foam. Plenum Return Silencers can also be used to direct and muffle sound.
---
Installing FireStop Putty Pads to seal electrical boxes: 
The following video outlines the installation of sound barrier:
---
Isolation Clips with double leg hat track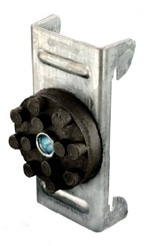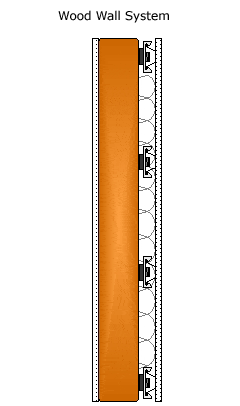 Why Resilient Clips? To decouple the physical structure as not to transmit sound vibrations. In combination with the AudioSeal® Sound barrier, adding resilient isolation clips will help decouple walls to break the physical transmission of sound between structural components. The RSIC-1 stops the noise and vibrations that typically transfer through the structure. This will "float" your walls or ceilings. These are used in conjunction with a double leg hat track (resilient channel). You can purchase hat track through a local contractor supply. You can attach Drywall/Sheet rock to the channel.
---
Green Glue between Layers of Drywall
Green Glue Damping Compound When installing the double layers of drywall, vary drywall substrate thickness, alternate your seams. This helps create a 'tortured path' for the sound. Use Green Glue in between any subsequent layers of drywall. Green Glue provides a viscoelastic sound damping layer that works like a resilient channel as part of the assembly.
To see how Green Glue dampens sound, watch this video:
Green Glue Installation Video:
ALTERNATIVES TO CONSTRUCTION METHODS:
---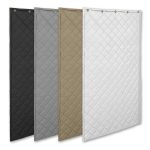 Can also be hung on the wall as temporary sound barriers. You can also use these blankets to create a soundproof enclosure. These blankets contain a Mass Loaded Vinyl (MLV) septum encapsulated between two layers of quilted fiberglass.
---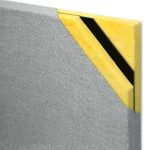 May be used to cover the whole surface of the wall needing to be soundproofed. (Custom quoted per job) They contain a layer of mass loaded barrier between two absorptive glass fiber layers with a fabric finish.
---
Also employ a barrier layer and can be used to make soundproof enclosures.
---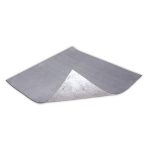 PrivacyShield® Ceiling Tile Barrier
If the wall partitions have a drop tile ceiling grid, the walls may not go all the way to the roof deck. If they do not, sound will flank over the walls. This can be used to block sound in a suspended ceiling grid. These simply install over top of existing ceiling tiles.
---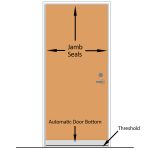 Door seal kits
Provide a soundproof seal around a door. Doors can also be a weak point. If air can pass around a door system, so can sound.
---