What are Acoustic Ceiling Tiles?
Introduction
Acoustical treatment isn't just for walls. Ceiling treatments are just as, and in some cases, more important for taming acoustical issues in a space. For instance, ceiling treatments can augment the quality of sound and the appearance of your facility.
Acoustic Ceiling Tiles are an easy and effective way to reduce the echo in a noisy room by using your existing drop ceiling grid. Our acoustic ceiling tiles can lay right into an existing T-bar suspended ceiling grid system. Don't have a drop ceiling? That's ok! We also have ceiling tiles that can be surface mounted!
Our acoustic ceiling tiles fall into three major categories. For instance, these ceiling tiles may be used to absorb sound, block sound, or even diffuse sound.
By replacing your older standard ceiling tiles you can improve the acoustics of the room as well as the room's heating and cooling efficiency with new Acoustic Tile. We have a large variety of acoustic ceiling tiles for every type of sound control. Depending on the nature of your project, you can choose between a variety of finishes and substrates for the right features.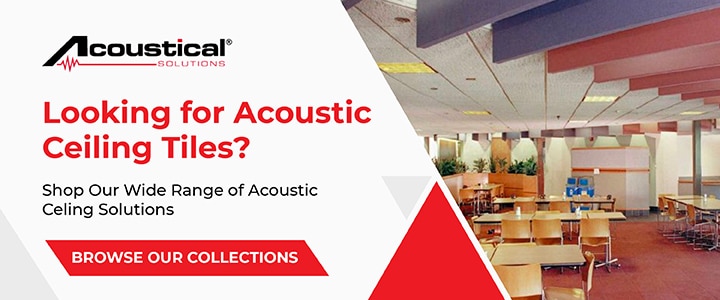 How Are Acoustic Ceiling Tiles Used?
Many offices, retail stores, and even some homes have a suspended dropped ceiling or T-Grid structure for their ceiling design. Acoustic Ceiling Tiles are placed into this structure to complete the ceiling. This design works well for many buildings as it allows for unsightly infrastructure like wiring, ductwork, or plumbing to be hidden above the drop ceiling structure. In addition, this plenum space between the tiles and the ceiling deck allows access for inspection or maintenance.
Acoustical control was another objective of dropped ceilings. For instance, highly absorptive materials like fiberglass or foam could be used to reduce echo and reverberation within the space.
Unfortunately, the quality of the standard tiles used for many buildings is poor. Upgrading to acoustical ceiling tiles will not only make the room you are in sound much better, but you can also reduce room-to-room sound transfer and make heating and cooling more efficient after installing our Acoustical Ceiling Tiles. These tiles can be made of various acoustical materials like fiberglass, foam, wood, polyester, and other substrates.
Why Are Acoustic Ceiling Tiles Important?
A noisy room can irritate the occupants and reduce speech intelligibility. However, a room that is too quiet may seem lifeless and dull.
The acoustical accomplishments of suspended ceilings have improved significantly over the years, with heightened sound absorption and attenuation.
The importance of room acoustics cannot be understated. An enormous piece of an interior environment is effective sound control. It is a major factor in schools, concert halls, and workplaces where the noise level can be considerably high.
An excess level of noise over extended periods of time can alter the comfort level of the people who use the facilities. Above all, this can lead to significant safety and health conditions. In the worst case, it could lead to irreversible hearing damage.
Examples of Acoustic Ceiling Tiles
Sound Absorption
Sound absorbing acoustic ceiling tiles are the most common. Absorptive ceiling tiles help to reduce the reverberation reflecting around a space.
Our selection of ceiling tiles provides higher absorption ratings over traditional ceiling tiles to maximize sound control. Many of our ceiling tiles are manufactured with a high-density fiberglass board. Other substrates like acoustical foam and polyester are also available. Our selection of ceiling tiles offers aesthetically pleasing options, cleanable and eco-friendly finishes, insulation value, impact resistance, fiber-optic lighting, and more.
For the best color selection or if you are looking for a ceiling tile to match your fabric wrapped panels, then the AlphaSorb® Acoustic Ceiling Tile is the perfect choice. If you desire a tile with a white eco-friendly finish, use our Sustainable Series. For projects that require custom colors, consider using the AlphaSorb® Paintable Acoustic Ceiling Tile. If your application requires excellent sound absorption and a simple black or white finish is acceptable, you may be interested in our Signature Acoustic Ceiling Tiles. Our AcoustiTherm Acoustic Ceiling Tile is available in black or white but with the added benefit of increasing the insulation value of your dropped ceiling system. Similarly, a popular choice for home theaters is the AlphaMidnight Tile, which provides a blackout ceiling. In addition, if you want the ceiling to look like stars, the AcoustiLight Tile includes fiber-optic lighting.
Sound Blocking
In some cases, you may wish to prevent sound from going through a ceiling grid system. Sound blocking acoustic ceiling tiles may be the answer.
Ceiling grid systems in most buildings will only have partition walls that stop where they meet the grid. If the walls do not meet the roof, sound can easily flank through the grid into the next space. You might also want to prevent mechanical noise from seeping into your office. You can harness the power of absorbing and blocking sound by replacing all the ceiling tiles in your grid with Signature Sound Barrier Ceiling Tiles. If you already have existing ceiling tiles, our PrivacyShield™ Ceiling Tile Barrier just installs directly over the existing tile, keeping your budget intact.
Sound Diffusion
Sound diffusing acoustic ceiling tiles will scatter and disperse sound that strikes the surface. The shape of a typical sound diffuser is not flat. This redirects the sound in a different direction, reducing the sounds intensity without removing the sound like an absorber material would. This helps to improve sound clarity and is particularly useful in critical listening environments. The AlphaDiffuser™ is available in three different patterns to suit your style. The concave and convex patterns are available in a fabric-faced version with the AlphaDiffuser™. If you are looking for a more traditional approach to sound diffusion, there is the Barrel Diffuser and Pyramid Diffuser, which are available in larger sizes if necessary.
Tips and Reminders for Acoustic Ceiling Tiles
Do you have a room with a drop ceiling that has a bad echo? If so, call us to discuss options for Acoustical Ceiling Tiles that will work with your existing ceiling structure.
Do you have a room with a drop ceiling where you can hear the neighboring room's conversations? If so, call us to discuss sound barrier tiles to absorb echo and block room-to-room sound transfer.
Unsure of where to start? Check out our AcoustiTherm Acoustic Ceiling Tile. With an NRC rating of 1.05 and an R-value of 13.6, AcoustiTherm ceiling tiles provide optimal acoustic performance and energy savings for a complete solution.
Summary
Acoustical Ceiling Tiles are an efficient, cost-effective, and easy-to-install "drop-in" solution to reduce unwanted noise in your space. Whatever your acoustical needs may be for a space, whether they be sound absorption, blocking, or diffusion, remember that a little can go a long way. Use our Reverb Calculator on one of our acoustic ceiling tile product pages to determine the square footage needed to achieve the best acoustical ceiling treatment results for your space. Give us a call so we can help you find the right tiles for your needs and budget.
---
To learn more about how Acoustical Solutions can solve your noise control problems, use our contact form, call one of our Acoustical Sales Consultants at (800) 782-5742, or visit us on the web at acousticalsolutions.com.