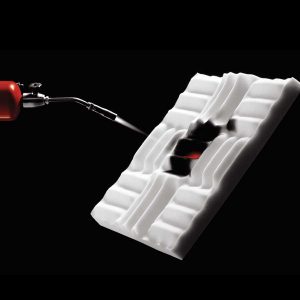 Sonex® Acoustic Foams are the industry standard for noise reducing foam. Beginning 40 years ago, it was the first to provide foam to the recording and broadcast industries. Also, the first to provide a real Class 1 fire rated fiber-free acoustical foam. Put a torch to Sonex® fire-rated foam and put a torch to the competition and see which burns. It won't be the Sonex®.
Over the years, Sonex® Foams have become the innovative choice. To meet your architectural and design standards, products using the foam include clouds, ceiling waves, barrels and many custom shapes. These acoustic foams are available in a base of natural foam colors, colorful HPC coatings or a vinyl wrap.
Direct Mount to Wall and Ceiling Options
Sonex® Classic Foam, boasting the unique Sonex® geometric anechoic design, is a popular choice. Sonex® Junior Foam is the same pattern as the classic panels except in a smaller size. Ideal for tight enclosures or other applications in confined spaces, the Sonex® Mini Acoustic Foam makes the cut. If you are looking for a product that provides extraordinary acoustical performance and versatility, look no further than Sonex® One Acoustic Foam.
The sleek design of the Sonex® Contour Panel elevates the look of any space with a smooth appearance. Sonex® Pyramid Acoustic Foam maximizes absorption with its deep peaks and may be installed edge to edge for a seamless appearance. With a sleek linear look, the Sonex® Tec Wedge Acoustic Foam is perfect for a range of sound control applications. For a smaller economical panel size, check out Sonex® Audio Tiles. Sonex® Valueline Acoustic Foam offers an affordable yet effective means of sound control. Clean and wipable,  Sonex® Clean Acoustic Panels are designed for applications including food processing plants and clean rooms.
Hanging Baffles and Clouds
These hanging baffles are perfect for large open areas. Production plants, warehouses, gymnasiums and swimming pools are just some of applications where this acoustical treatment would be fitting. Just like Sonex® Valueline Acoustic Foam, the Sonex® Valueline Hanging Baffle offers the same value and unique surface pattern. Sonex® One Hanging Baffles come with integrated straps and grommets for easy installation. For design versatility, look no further than the Sonex® Rondo Sound Baffle which may suspend horizontally or vertically.
To unleash creativity and design while planning your project, consider the Whisperwave® products line. The curved accent adds both dimension and acoustical control right where you need it the most. Suspend the Whisperwave® Ceiling Clouds as single clouds or group them in clusters. The Whisperwave® Sound Baffle creates movement while reducing echo and reverberation. The Whisperwave® Ribbon Sound Baffle also has great style while offering exceptional acoustical performance.
Ceiling Tiles for Suspended Grid Systems
Sonex® Harmoni Ceiling Tiles are the natural choice when looking to combine contemporary styling with excellent acoustical control at a moderate price. Choose from two patterns and a range of HPC colors. Sonex® Contour Ceiling Tiles drop into a standard grid and is a foam tile with a 3/8″ backer board. The HPC coating of these two styles gives these tiles a durable, clean look. If your environment requires noise control with a cleanable, rich colorful finish, Sonex® Clean Acoustic Ceiling Tile is the solution for you.  Since Sonex® Clean products meet USDA/FDA requirements, they are ideal for a variety of applications including bottling and food processing plants, clean rooms and food preparation areas. Simply drop these ceiling tiles into any standard T-bar suspended grid system for a effortless installation.